Anti-lockdown, anti-EU, anti-Islam: Meet For Britain Movement by-election candidate Frankie Rufolo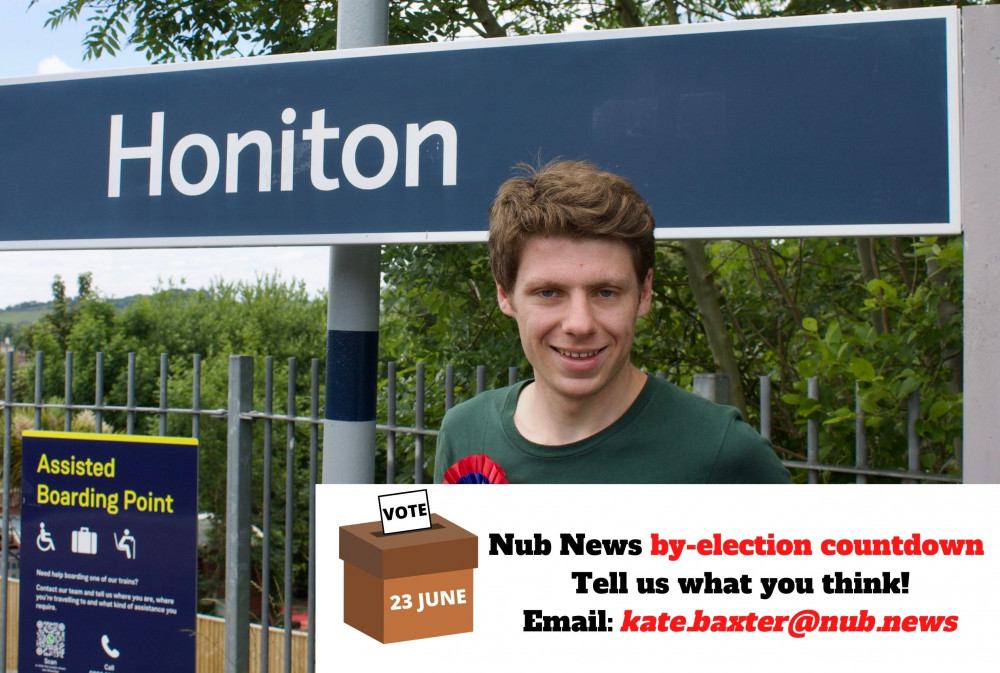 Frankie Rufolo at Honiton railway station (Nub News, Will Goddard)
Tell us your views on the upcoming Tiverton and Honiton by-election on 23 June via email

[email protected]
----------
Frankie Rufolo, the candidate for the 'For Britain Movement' in the upcoming Tiverton and Honiton by-election, has confirmed his setting fire to a copy of the Quran in an Exeter pub in 2019 informs his political views.
The 22-year-old from Exeter is also anti-lockdown and anti-EU, and describes himself as a 'free speech absolutist, pretty much'.
The by-election for the Tiverton and Honiton constituency is set to take place next Thursday (23 June). It was triggered when Conservative MP Neil Parish resigned after admitting to watching pornography in the House of Commons.
What is the For Britain Movement?
Mr Rufolo described the For Britain Movement, the party he is representing, as broadly libertarian and pro-free speech.
He said: "We're a relatively new party, and one of our main policies is a constitution to protect free speech, a bit like America has.
"We would abolish hate speech laws, and if I was the MP for Tiverton and Honiton I would vote against the Online Harms Bill.
"I think it's the height of hypocrisy that the MP for this area Neil Parish was looking at inappropriate things on his phone whilst at the same time the government are trying to take away our freedom of speech, our privacy, our liberty, on the internet.
"We're not libertarian on every issue, but we tend to be quite liberty-minded.
"It's the government's job to protect its people, provide a safety net for the vulnerable, and then just stay out of their lives as much as possible.
"We've just had two years of lockdown lunacy while the government were not sticking to their own rules. Now that we're post-lockdown, we've still got all this nanny-state nonsense."
Local issues, cost of living
Mr Rufolo highlighted the lack of a front enquiry desk at the police station in Honiton as a concern, as well as the cost-of-living crisis.
He said: "The Tories are promising to reopen the police station in Tiverton and a few others in Devon and Cornwall, but they're not promising to do that here in Honiton.
"I speak to a lot of older people who would like to see the front desk at the police station opened.
"You can phone the police to report things, but it can take you a while to get through to a real person. They're encouraging people to report things online, but of course not everyone is online in Devon.
"I also want to help out some of the ageing population around here. We support reforming family law to make sure that fathers have the right to see their children, but also introduce specific rights for grandparents ... our policy is to make grandparents the default that children go to if their parents are not there and able to look after them.
"We're against the National Insurance hike, we support cutting taxes on people's energy bills, abolishing the TV licence fee to help people save money every year.
"I want to protect Devon's countryside, I want to stop all of our beautiful green fields being built over either with new houses when there are quite a few empty homes in Devon, or with wind farms or solar farms."
Anti-Islam
Mr Rufolo set a Quran on fire in an Exeter pub in 2019. When asked if this informs his political views, he said: "I think it does. The fact is, there are a lot of countries where Islam has sway, where Islam influences or forms the government.
"Therefore, we can and should criticise Islam as a religion, like any other religion, but also as a political ideology.
"Everyone is free to criticise other religions, but I don't see other religions doing as much harm, as much damage as Islam.
"We've had a lot more Islamic terrorist attacks in this country in recent years than there have been atheist terrorist attacks.
"I was arguing with somebody recently about this controversy over this film 'The Lady of Heaven'.
"Imagine you're a parent trying to take your kid to see the latest Disney film, or you're a teenager or young person who wants to go to the cinema for a date, and there's a massive mob outside. You'd be intimidated, you'd be put off doing it. It's just unfair on everyone else really."
Why should someone vote for you?
When asked what he would say to a constituent to encourage them to vote for him, Mr Rufolo responded: "This is a by-election. Whoever wins, the Conservatives will be in government even if Boris Johnson is not, so you don't need to vote tactically.
"If you vote for someone new, someone different, that will get the establishment parties scared ... if you send me to Westminster it will tell Boris Johnson the party's over.
"The strongest anti-lockdown, anti-EU, patriotic populist vote is a For Britain vote."
Eight candidates are standing in next Thursday's election. Click here to view the full list of candidates.