Honiton: Co-op presents Local Causes with almost £6,000 in donations
This year Honiton Co-op has supported three local charities - Open Arms East Devon, Cruse Bereavement Care Devon and Honiton Carers.
---
By Kate Baxter
Posted: Thursday, 10th November 2022 12:00 am
---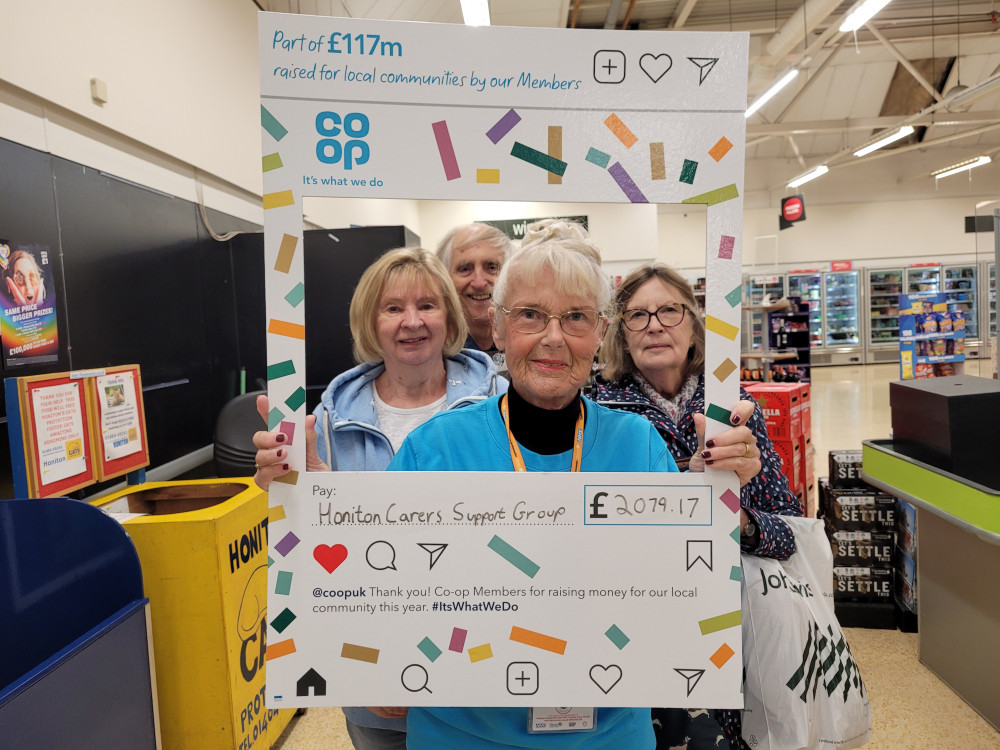 Honiton Carers received £2079.17 from the Co-op (Credit: Violet Bonetta)
Local initiatives
Three local causes have received their fundraising pay-outs after being nominated for the Co-op's Local Community Fund support for the past 12 months.
The three causes were the Honiton Carers, Cruse Bereavement Care Devon and Open Arms East Devon. The money raised for each group was £2079.17, £1,797.41 and £1,819.35 respectively.
This means that shoppers in Honiton raised a total of £5695.93 over the past year.
Violet Bonetta is the Co-op Member Pioneer for Honiton and Sidmouth Co-op. She told Nub News: "It was really amazing to speak to the causes about what they would do with the money, and very exciting to share the brilliant amounts raised!
"I'm so happy to have been able to support causes that really have and will continue to benefit the community of Honiton, supporting our community with their mental health, supporting our carers and supporting those who have gone through or are going through a bereavement."
The Honiton Carers Support Group was presented with a cheque for £2079.17, which has been donated by the Co-op from its Local Community Fund.
Winnie Cameron is the organiser behind Honiton Carers. She told Nub News: "We were thrilled to receive a cheque from the Co-op covering the Art & Craft sessions we have enjoyed during the past 12months at Thelma Hulberts Gallery.
Honiton Carers will continue to be supported by the Co-op next year.
"We would like to say a huge thank you to the Co-op and their customers for supporting us and to Anna at Thelma Hulberts Gallery for teaching us so many different crafts during the year. We have all had a fabulous time."
Next year's chosen charities are Honiton Carers, Honiton Foodsave and Honiton Town Youth Football Association.
Jake Bonetta is the founder of Foodsave. He told Nub News: "We are delighted to have been selected as one of Co-Op's chosen charities for the coming year. We are immensely proud of our links with the Co-op already, and we look forward to working even more closely with them to ensure we can reduce food poverty and food waste as effectively as possible.
"All money donated to Foodsave through the scheme will do directly into protecting our services in Honiton and the surrounding areas, making sure we can continue running our current distribution sessions with the possibility of doing even more activities in the future."
Co-op membership helps support your local community, with great rewards for you too. When you buy selected Co-op branded products and services, 2p for every pound spent goes to you and the Co-op gives the same to local communities.
Join the Co-op today online at this webpage or in-store.
To find out more about the Local Community Fund or Co-op Membership