Honiton coronavirus: Find out how many Covid cases there are in the local area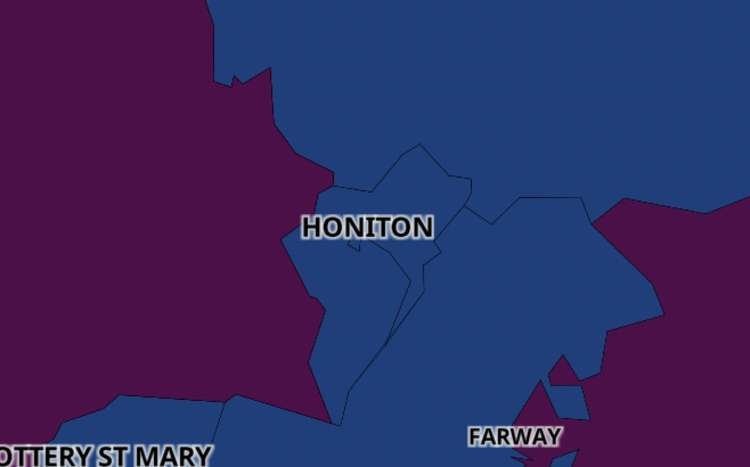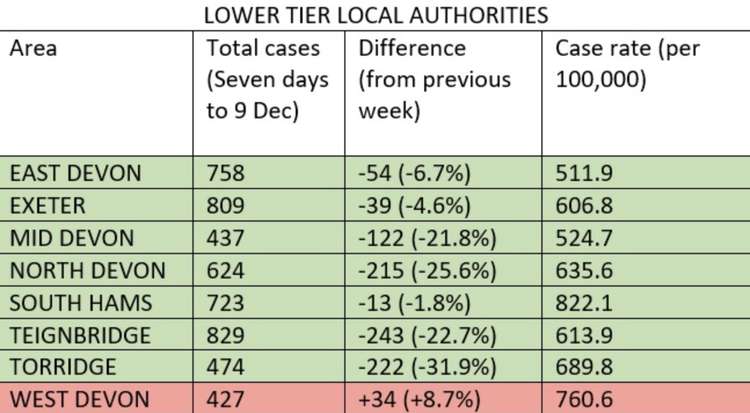 Covid statistics for lower tier local authorities

Covid statistics for upper tier local authorities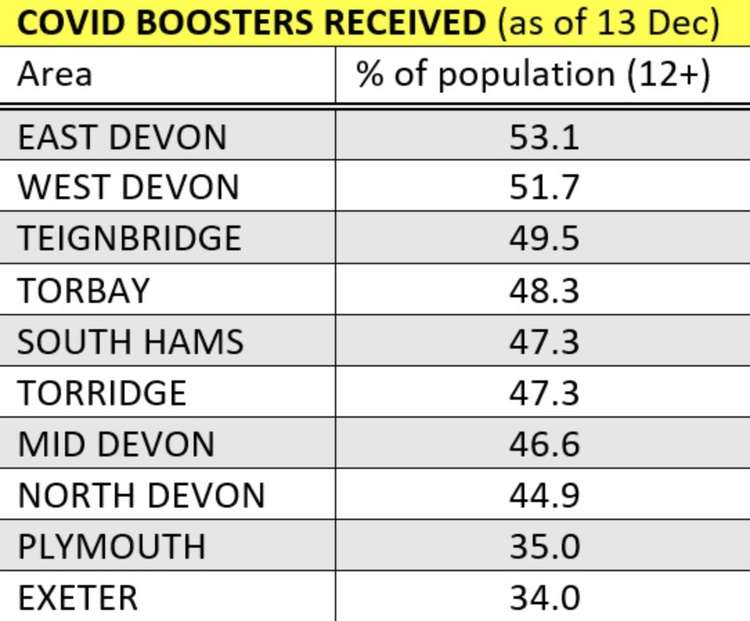 Honiton residents can now see the number of Covid cases in their area on an interactive government map.
These are the numbers for the seven days up to 10 December:
Coronavirus in Honiton
Honiton North & East: 15 cases (decrease of 3)
Honiton South & West: 11 cases (increase of 1)
Feniton & Whimple: 51 cases (increase of 8)
Dunkesewell, Upottery & Stockland: 51 cases (increase of 8)
Sidbury, Offwell & Beer: 12 cases (decrease of 13)
You can view the interactive map for yourself here.
SEE ALSO: Honiton: How to get your Covid booster jab
Coronavirus in Devon
Covid cases have fallen across much of Devon, after weeks of infections going up.
However, Devon's director of public health urges caution as the first cases of the new Omicron variant are confirmed in the county, and reports that it may be more transmissable than Delta.
Figures for the week to Thursday 9 December show rates in Torbay and Devon County Council both fell by just under 15 per cent, but Plymouth's went up 13 per cent.
However, the county continues to have higher rates of covid than the national average of 514 cases per 100,000 people. Devon and Torbay's figures now stand at just over 600, while Plymouth's is considerably higher at 865.
In the northern part of Devon, previously the most infectious area, cases have gone down significantly over the past week. Both Torridge and North Devon recorded falls of over a quarter, bringing rates closer to the county average.
Elsewhere at district level, Mid Devon and Teignbridge both had reductions in cases of more than 20 per cent. East Devon and Exeter registered single-figure percentage falls.
The most infectious district remains the South Hams, despite a small drop of just 13 cases. Its rate is 822 cases per 100,000 people.
West Devon was the only district area where cases increased, by just under 10 per cent.
It comes after the first confirmed cases of Omicron were confirmed in Devon. Steve Brown, the county's director of public health, said none of them are linked to foreign travel.
He added in a statement: "It was only going to be a matter of time before we saw the first Omicron cases in Devon, so this does not come as a surprise.
It will take a while before we have real world data to understand the full characteristics of the Omicron variant, but early indicators do seem to suggest that it is more transmissible than the Delta variant.
"We do expect to see the numbers of confirmed Omicron cases rise in Devon over coming weeks, and it is likely to overtake the Delta virus to become the dominant strain across the country.
"We are monitoring the data very closely and will continue to take appropriate measures to curb transmission where we see outbreak situations."
Mr Brown is due to update Devon's council leaders on the situation on Thursday [16 December].
Hospitalisations
As of the most recent data from Tuesday 7 December, 160 patients with covid are in Devon's hospitals, an increase of 12 from last week's figure. Sixty-nine are at Derriford Hospital in Plymouth, 36 at the RD&E, 30 in Torbay, 22 in North Devon and three at Devon Partnership mental health sites.
Of the total number of patients, 16 are in ventilation beds.
Deaths
Eleven more people died in the county within 28 days of testing positive for covid in the latest complete weekly period (up to Wednesday 8 December). Seven were in the Devon County Council area, two in Torbay and two in Plymouth.
A total of 1,388 people in Devon (including Plymouth and Torbay) have died within 28 days of a positive test since the pandemic began.
Vaccinations
The number of people aged 12 or over who have received at least one dose of a vaccine is 87 per cent in the Devon County Council area, 85 per cent in Torbay and 83 per cent in Plymouth.
The proportion of people who have had two jabs is 81 per cent in Devon, 79 per cent in Torbay and 77 per cent in Plymouth.
Boosters
Parts of Devon are among the highest in the country for the number of people who have had a covid booster jab.
Across the UK, 42 per cent (as of Monday 13 December) of those aged over 12 have received a booster, as the government urges the public to "get boosted now" amid concerns over the new Omicron variant.
In eight of the ten council areas in Devon (excluding Devon County Council) the proportion is higher, with only Plymouth and Exeter lagging behind at just over a third – probably due to their younger populations.
East Devon ranks highest in the county at 53 per cent – one of the highest figures in England. West Devon also has more than half of its eligible population now fully vaccinated (52 per cent).
Teignbridge, Torbay, the South Hams and Torridge all rank highly at just under half, while Mid Devon and North Devon also come in above the national average.
This week, the NHS in Devon said it is working to increase the number of vaccine clinics and extend opening hours following the prime minister's announcement of the Omicron emergency booster mission.
—————
For daily updates on what's happening in Honiton, follow us on Facebook and Twitter. You can also sign up to our free weekly newsletter featuring exclusive articles for subscribers - just type your email into the box below.