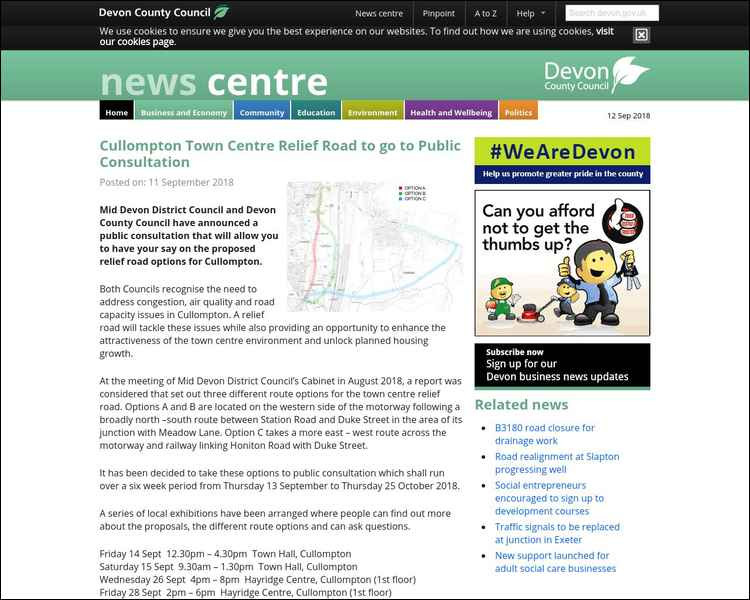 Posted on: 11 September 2018

Mid Devon District Council and Devon County Council have announced a public consultation that will allow you to have your say on the proposed relief road options for Cullompton.

Both Councils recognise the need to address congestion, air quality and road capacity issues in Cullompton. A relief road will tackle these issues while also providing an opportunity to enhance the attractiveness of the town centre environment and unlock planned housing growth.

At the meeting of Mid Devon District Council's Cabinet in August 2018, a report was considered that set out three different route options for the town centre relief road. Options A and B are located on the western side of the motorway following a broadly north –south route between Station Road and Duke Street in the area of its junction with Meadow Lane. Option C takes a more east – west route across the motorway and railway linking Honiton Road with Duke Street.

It has been decided to take these options to public consultation which shall run over a six week period from Thursday 13 September to Thursday 25 October 2018.

A series of local exhibitions have been arranged where people can find out more about the proposals, the different route options and can ask questions.

Friday 14 Sept  12.30pm – 4.30pm  Town Hall, Cullompton Saturday 15 Sept  9.30am – 1.30pm  Town Hall, Cullompton Wednesday 26 Sept  4pm – 8pm  Hayridge Centre, Cullompton (1st floor) Friday 28 Sept  2pm – 6pm  Hayridge Centre, Cullompton (1st floor) Tuesday 2 Oct  4pm – 8pm  Village Hall, Kentisbeare

From Thursday (13 September) information about the consultation will also be available at the following web address: https://new.devon.gov.uk/haveyoursay/consultations/cullompton-town-centre-relief-road/

There are a variety of ways to provide feedback on the consultation:

* Complete one of the feedback forms available at the consultation events and either place it in the box provided, scan/photograph the form and email it to [email protected] or post a copy to: Transport Planning Team, AB2 Lucombe House, County Hall, Topsham Road, Exeter, Devon EX2 4QD

* Complete the online feedback form on the Devon County Council website https://new.devon.gov.uk/haveyoursay/consultations/cullompton-town-centre-relief-road/

Councillor Richard Chesterton, Cabinet Member for Planning, Economy and Regeneration said: "This is an important opportunity for everyone to make their views known. I would urge people to get involved so that as the project goes forward, it does so in the knowledge of the views of the community."


Continue Reading