Honiton local causes benefit from Co-op funding payout
Three local causes in Honiton received much needed funds in November thanks to the Co-op's annual Local Community Fund campaign.
---
By Will Goddard
Posted: Monday, 04th April 2022 3:43 pm
---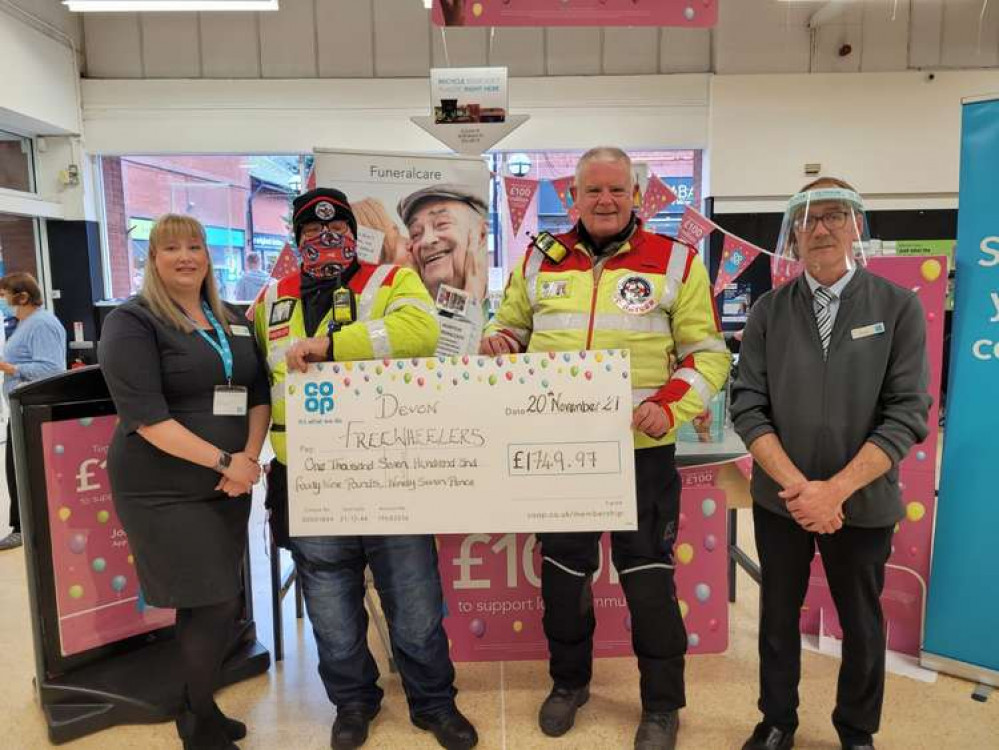 Devon Freewheelers received £1,749.97
Local initiatives
Three local causes in Honiton received much needed funds in November thanks to the Co-op's annual Local Community Fund campaign.
Each year, Co-op stores ask local people to nominate deserving community causes. When Co-op Members buy selected Co-op branded products and services, 2p for every pound spent goes into their Co-op Membership account and Co-op gives the same to support community organisations and local causes.
Last year Honiton's local causes, TRIP Community Transport, Honiton Primary School PTFA, and the Devon Freewheelers (also known as Devon Blood Bikes), received a combined total of £5,164.
TRIP Community Transport is a Honiton-based charity that seeks to relieve isolation and loneliness in the area by providing easy access transport, befriending services and more. It used its share, £1791.53, to employ another team member to support its befriending hubs.
Deputy Manager Sharon Thorne said: "Whilst we're predominantly known for our blue buses, the core of our practice is about reducing isolation and loneliness, not just for the elderly, it's for anybody that can't access ordinary services."
Honiton Primary School PTFA spent its £1,623.10 on buying outdoor equipment to improve and support outdoor learning during the Covid pandemic.
Devon Freewheelers used its £1,749.97 in funds to ensure vulnerable residents in the local community could continue to receive their medication throughout the pandemic and have also recently bought high-visibility jackets to improve their safety.
Honiton Co-op Member Pioneer Tyler Bonetta said: "The Co-op Local Community Fund allows local groups to raise money by donating 2p for every £1 spent on Co-op products when you scan your membership card at the till.
"It's amazing to see these funds turn into results, and it's amazing that TRIP, Devon Freewheelers and Honiton PTFA have been able to raise a combined £5,164 this year - and that is all down to Co-op Members in the community!"
The next round of the Local Community Fund has now opened and the three new local causes for Honiton are local mental health support group Open Arms East Devon, Cruse Bereavement Support Devon, and Honiton Carers Support Group.
Co-op Members will continue to help thousands of grassroots community projects through the Local Community Fund by selecting a cause to support. Since 2016 Co-op Members have raised more than £85m for over 25,000 projects.
Supporting these local causes aligns with the Co-op's mission of fairer access to food, mental wellbeing and opportunities for young people.
Select your local cause today at coop.co.uk/local-causes or go to the Co-op App.
You can become a Co-op Member online at www.coop.co.uk/membership or in-store.