Ceremony announced to mark centenary of Honiton War Memorial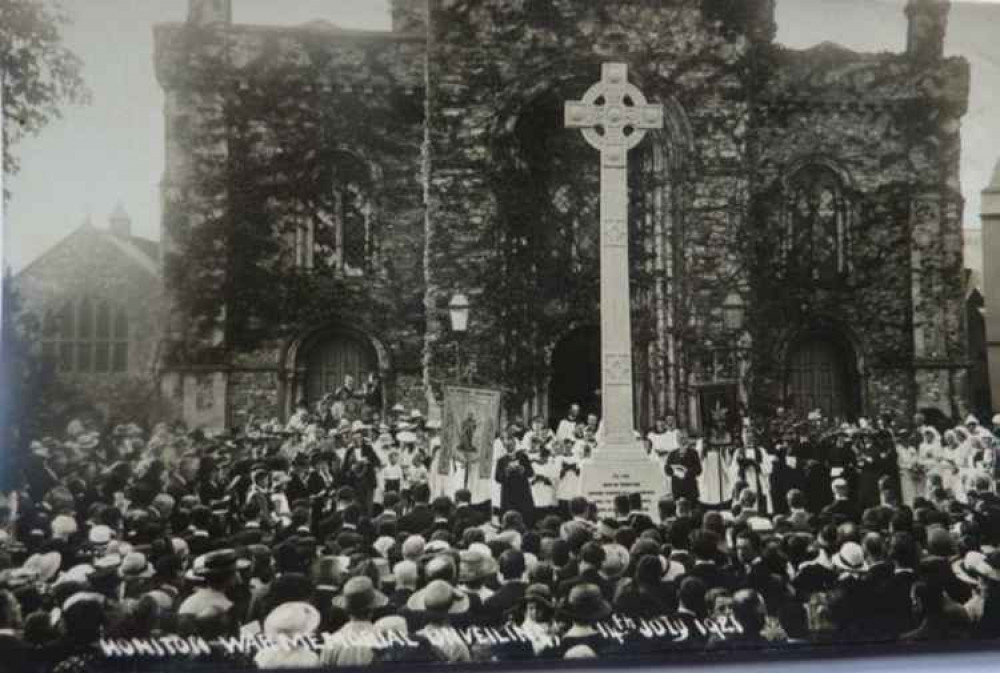 Dedication of the Honiton War Memorial, July 14th 1921. Photograph provided by Terry Darrant.
A ceremony marking the 100th anniversary of the unveiling of the Honiton War Memorial is to take place on Wednesday, July 14.
The memorial was built in 1921, and was paid for by public subscription. It is inscribed with the names of 66 local men who were killed during the Great War.
Later research has suggested that as many as 77 other men born locally, or who lived in the area, may also have died, but whose names are not recorded on the monument. Many of these brave men were remembered during a series of vigils for each local man who was killed, held at the War Memorial between 2014 and the end of 2018 on the centenary of their deaths.
The names of 22 local men who died in World War Two were later added to the memorial, as well as one who was killed during the Troubles in Northern Ireland.
What will happen at the Memorial on July 14?
A short ceremony will be held at the War Memorial at 7 pm. Among those taking part will be members of the local branch of the Royal British Legion, which is also marking its centenary in 2021. Also present will be the Town Mayor and Deputy Mayor, and the local Rector, Sue Roberts. Honiton Scouts will also be taking part.
During the ceremony, Margaret Lewis, curator of Allhallows Museum, will be talking about some of the men whose names are not inscribed on the memorial, but whose service and sacrifice the Honiton community remembers with gratitude.
The event has been organised by local author and historian Terry Darrant. At the start of the ceremony, he will be talking about the history of the monument.
Terry said: "I really didn't want the 100th anniversary of such a significant part of the town to pass without being properly marked. The unveiling of the memorial in 1921 was a massive event for everyone in the town, especially those who sadly had family and friends' names engraved in stone. So hopefully this scaled down ceremony will at least be something to help pass that memory on into the future."
Local groups have been invited to take part in the ceremony but, due to Covid restrictions, they are asked to send no more than one person to represent their group.
New honiton Jobs Section Launched!!
Vacancies updated hourly!!
Click here: honiton jobs