Honiton: Allhallows sports teams want to see dogs banned after years of picking up dog mess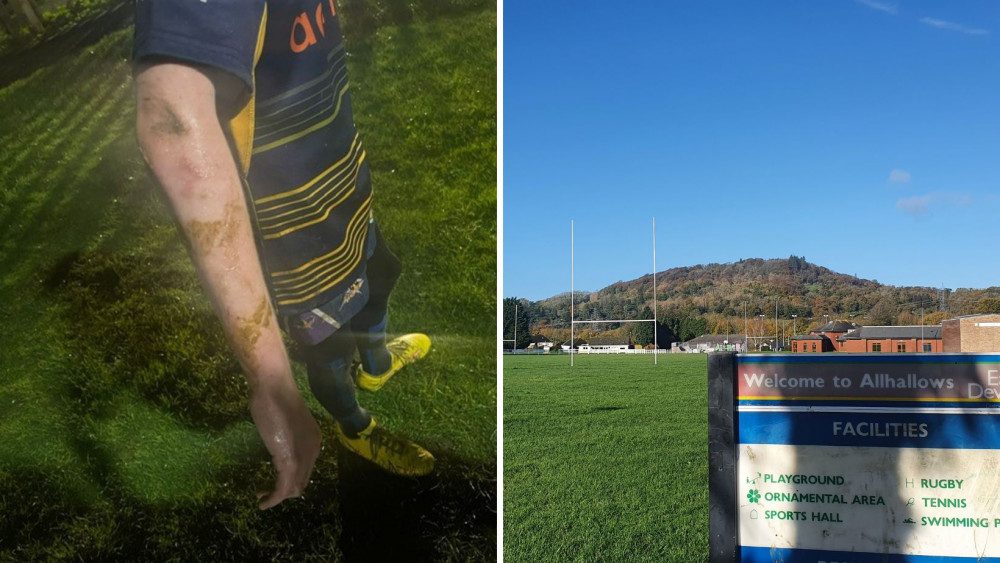 L: A player with dog mess on his arm (Credit: Jeremy Rice) L: Allhallows Playing Fields
The sports teams who use the Allhallows Playing Fields In Honiton are constantly having to stop their games to clean up dog mess, and they are trying to get dogs banned from the pitches.
The sports fields, which are off School Lane, are used by the Honiton Rugby Club, as well as other groups.
The pitches are owned by East Devon District Council (EDDC). Honiton Town Council are aware of the problems and have tried to improve the situation, but it is EDDC who can make the decision to ban dogs from the pitches.
EDDC are currently running a public consultation on the areas where dogs are allowed to run free, have to be on leads or are banned completely. The Allhallows Pitches are not currently under review, but the consultation allows for members of the public to submit comments or suggestions.
Before each match on Allhallows takes place, the pitch is searched for dog poo. However, more poo is regularly found during matches, and the games have to be paused whilst more dog waste is cleaned up.
Before a recent match, five bags of dog mess were removed prior to the game. However, the game still had to be stopped twice for two more bags to be removed from the pitches.
On another recent occasion the referee identified four piles of dog waste which were removed, but the game was delayed so a thorough search could be completed. After four more bags were removed, the match started.
This week, one of the players ended up with dog mess all up his arm. In the last three weeks 30 bags have been collected.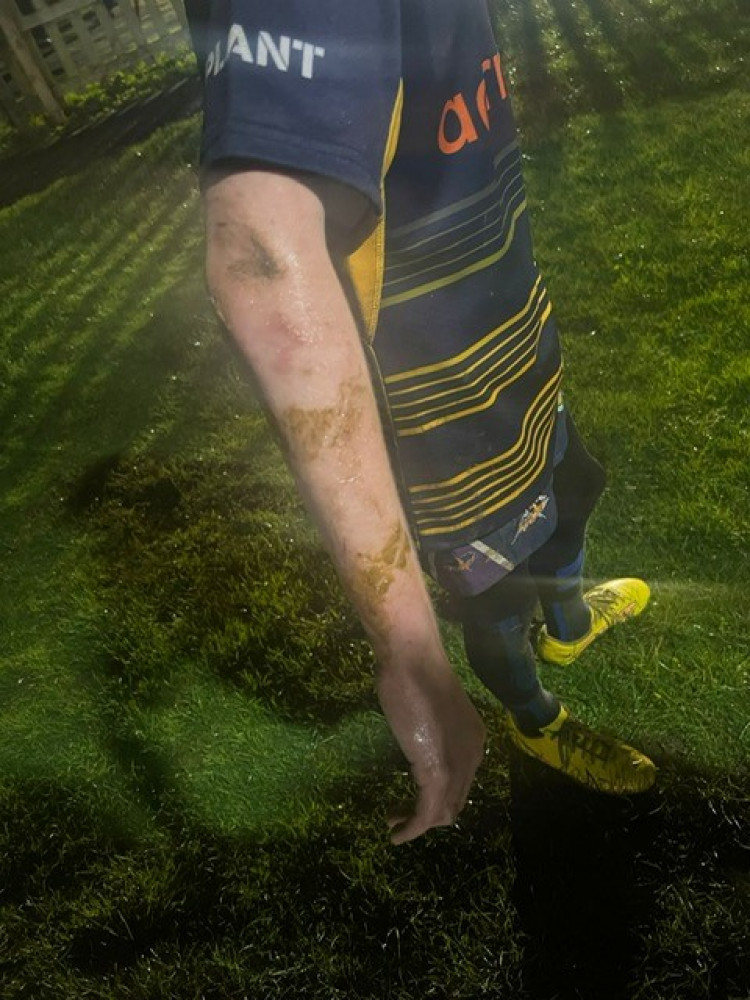 Jeremy Rice is the Secretary of Honiton Rugby Club. He contacted Nub News about the state of the pitches.
He said: "I'd say it's been well over 25 years that we have complained about this problem. Surely in this day and age this is just not acceptable.
"I've been in touch with the Town Council many times, and they do make suggestions. For example leaflet drops to the houses, putting up signs up and report it on their website.
"We have complained, been to meetings, launched campaigns and put up posters, but, frankly, we don't bother [anymore] as nothing happens. The council did suggest that we put a fence up, but we could only put one on the bottom pitch.
"We have a fence but short of spending a fortune on 'dog proof' fencing, which would also stop the public and look unsightly, nothing has worked.
"It has been 30 years of endless complaints and meetings, but it goes nowhere. No other sports pitches have dogs allowed on them.
"We want dogs to be completely banned from Allhallows."
A spokesperson for Honiton Town Council told Nub News that they have been aware of the problem for many years, and they are concerned about it.
The Town Clerk, Stephen Hill said: "The Town Council has been made aware of this and is in contact with Honiton RFC. I understand that this is not an uncommon problem exacerbated by several Honiton dog owners.
"The Town Council will support requests for EDDC's actions and underline its dissatisfaction with the current arrangements. Better enforcement, signage, and even fencing must surely be considered by EDDC.
"Honiton Town Council have asked Honiton RFC to tell us the problem and its impact, which may be obvious but is intended to help the Council ask for action from EDDC.
"The Town Council is concerned about the obvious health implications but also the general discomfort that arises when dog fouling and rugby playing mix. Reasonable dog ownership is needed coupled with excellent enforcement and I suggest reconsideration of permitting dogs access to land use for sports."
East Devon District Council gave a statement to Nub News which states: "EDDC is legally required to renew its Public Space Protection Orders (PSPO) every three years, and hold a consultation on any proposed changes. We are currently running a six-week consultation on East Devon's PSPOs that is due to finish on Sunday, 20 November.
"One of the many purposes of the consultation is to give members of the public the opportunity to ask for areas, where they feel there is a problem, to be added to the PSPO areas – which may include 'dog on lead' and 'dog exclusion' zones.
"We were not aware of an extreme dog mess issue at Allhallows but we have had three responses asking for Allhallows to be added into a PSPO to control dogs, keeping them on leads, to address the dog fouling issues.
"We welcome any feedback or views from members of the public who would like to have their say on the site. Please email [email protected] to do this.
"All the feedback gathered from the consultation will be presented to council members, who will make a final decision, at January's EDDC Cabinet meeting. If approved, all changes will come into force from May 2023."
"Residents can be reassured that the existing PSPO already makes dog fouling an offence in all parts of the District. If members of the public have information relating to owners allowing their dogs to foul, please contact [email protected] and we can investigate."
If you would like to submit a comment to EDDC regarding these issues, you can email [email protected].
New honiton Jobs Section Launched!!
Vacancies updated hourly!!
Click here: honiton jobs