Honiton Carers meet the county council's Scrutiny Committee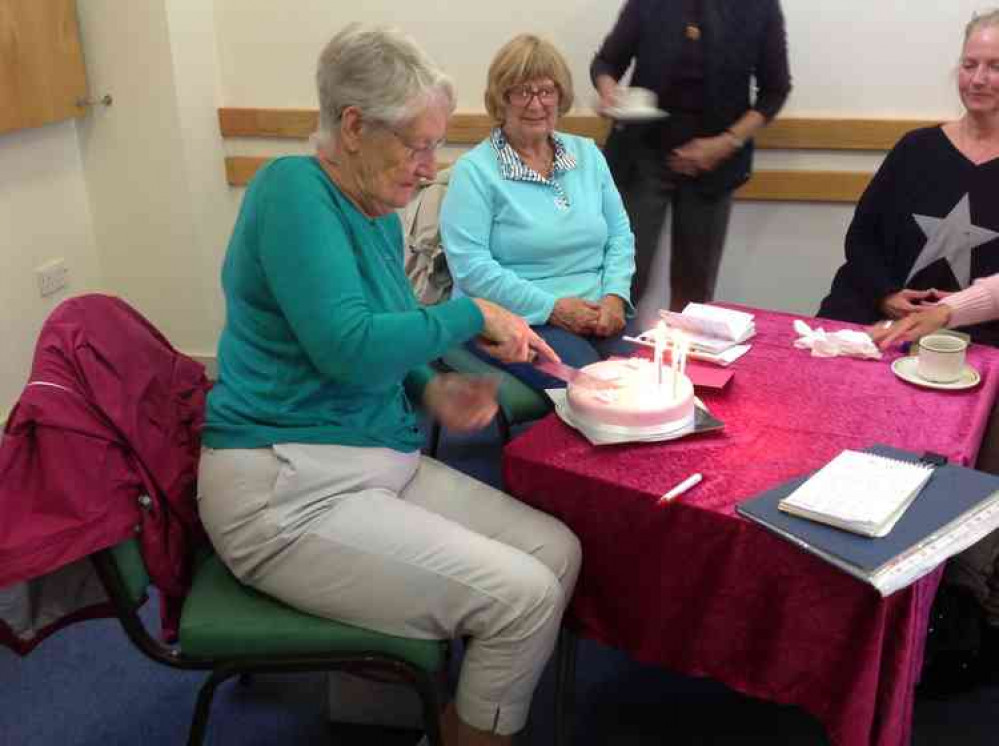 Kay Lawrence cutting her cake prior to the meeting starting.
Honiton Carers had a busy session at their last meeting on Wednesday, August 14, at the Methodist Church.
Jean Donald, ex-carer and long standing ex-member of the Carers Group delivered a brilliant Crafts Session. Jean provided all the materials and demonstrated how to make a little figure with wire and buttons. This was a great talking point and a huge success much enjoyed by everyone.
This was followed by a short break when refreshments including a superb birthday cake was served, supplied by Karen Howe for her mother-in-law Kay Lawrence who celebrated her birthday with us today. The cake was very much appreciated by everyone. Who send their thanks to Karen and of course to Kay for sharing her cake.
After the short break Winnie Cameron introduced the DCC Scrutiny Committee consisting of :-
Sara Randall, Chair of the Adult Health Scrutiny Committee and a County Councillor for Broadclyst, Richard Scott, a committee member and Exmouth County Councillor and Phil Twiss, a committee member and Honiton County Councillor.
Sue Younger-Ross and a DCC Officer Timothy Ridgeway were also attendance.
Mr Twiss outlined the reason for the meeting as being a chance for everyone to voice their opinions, good and less good, regarding the Services received as carers.
The meeting was part of a review carried out around the county with the committee engaging with carers to see what can be done better and what has been achieved.
He explained that carers are often overlooked and that from previous meetings there is a degree of commonality in peoples experiences. They have found a lot of gaps in what is provided for carers and those they care for and they are endeavouring to fill those gaps.
An animated discussion followed when the carers were more than willing to participate.
The Committee said our concerns and views would be taken into account and a report would be put out in October 2019.
Winnie Cameron thanked the committee for listening to the carers concerns and experiences and looked forward to seeing the report out in October.