Lib Dem by-election candidate Richard Foord becomes emotional as he talks about real poverty in Honiton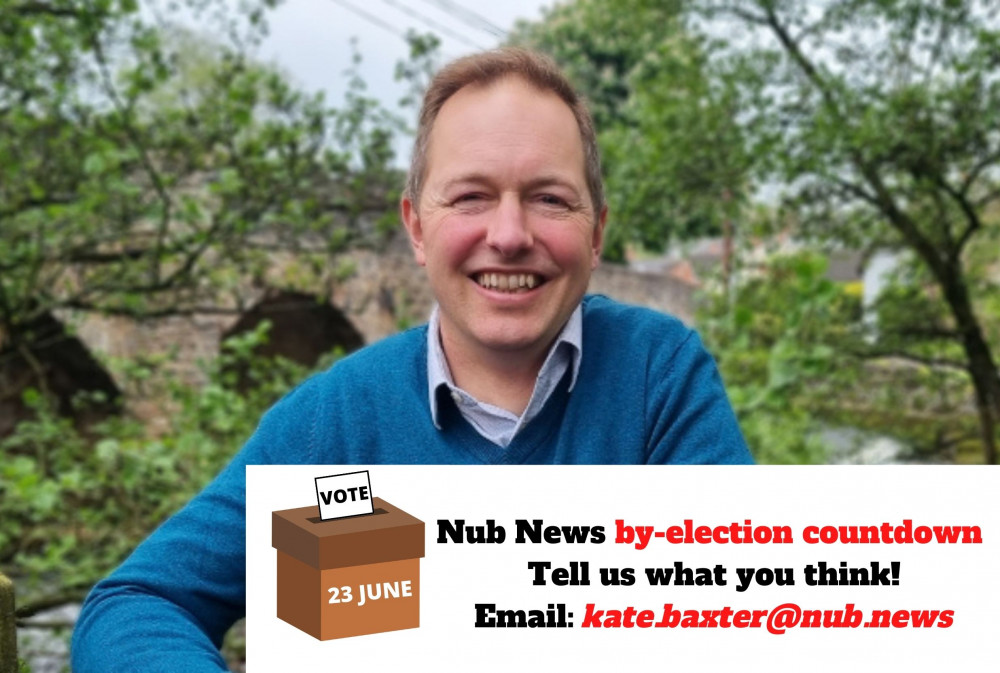 Tell us your views on the upcoming Tiverton and Honiton by-election on 23 June via email

[email protected]
----------
Former Army Major Richard Foord says he's been moved by the poverty and hardship he has witnessed in and around Honiton.
Father-of-three Mr Foord – who is standing as the Liberal Democrat candidate in this month's Tiverton and Honiton by-election – believes a lack of Government investment in Devon is partly to blame.
The would-be politician became visibly emotional during an interview with Nub News, saying what he had seen made him realise the importance of the role of the constituency's MP.
He said: "I am really enjoying meeting people, but being an MP is a solemn responsibility. I've seen real poverty here in Honiton and the surrounding villages.
"There are areas of deprivation where we might not expect them. Some roads and areas are tucked away, and people might not see how much families and pensioners are really struggling with the rising cost of living.
"Parents are going hungry so they can feed their children and pensioners are struggling to cope with real-term pension cuts. They're struggling to survive, and these people depend on my representation to get their views across.
"People in rural areas are isolated and cut off and are being disproportionately affected by rising fuel costs."
The Sandhurst graduate – who served in Iraq and the Balkans – highlighted how the Liberal Democrats want to extend free school meals to include more children.
He said the party would also consider reversing the recent increase in National Insurance, as this is hitting working families hardest, in a time of high inflation.
The Liberal Democrats are running a high-energy campaign to overturn the Conservative's 24,000 majority – and they believe they're winning the hearts and minds of locals in Honiton.
Mr Foord, who lives with his family in Uffculme, told Nub News: "Honiton voters have a fantastic opportunity to speak for the rest of the country.
"Many people are citing the Prime Minister's deceit as an issue: his lack of integrity, honesty and willingness to lie to Parliament.
"The people of Honiton are angry that they are being taken for granted and being treated with contempt. But there is still a mountain to climb, and we are working for every single vote in this town."
Another issue the former soldier said the Liberal Democrats would tackle is the pupil premium every school receives for each student it teaches.
The premium has been reduced in real terms in recent years. The Liberal Democrats have pledged to return this figure to its 2015 value.
The most recent report by Ofsted inspectors rates Honiton Community College as Good. Nearby Axe Valley is rated as Requires Improvement.
Mr Foord said: "One of the reasons I want to be elected is to challenge Ministers – to bang the drum about issues where we are being failed.
"Parents of children who attend Honiton Community College are quite pleased with the performance of their school and the teachers are raising aspirations. But we would like to increase the pupil premium."
Another big issue in Honiton is the lack of affordable housing.
"We'd pressure local builders to increase the quota of affordable and social housing," added the Liberal Democrat.
"We've seen a cosy relationship between the Conservative government and developers so there is a watering down of their affordable housing commitments once planning permission is secured. In Honiton we are seeing local people being completely priced out. And it is only going to get worse."
The Liberal Democrats have said they would like to see a "community ambulance fund" created to address the shocking waiting times suffered by patients in the South West.
In Honiton, the average waiting time for a Level 2 ambulance (for an emergency or a patient with a potentially serious condition) is 80 minutes. The Government target is 19 minutes.
Mr Foord added: "The healthcare issues in Devon are systemic. I've heard some tragic stories. One elderly person in the area fell over and had to wait 14 hours for an ambulance."
The by-election, on June 23, was triggered by the resignation of Tory MP Neil Parish who was elected in 2010 but departed after admitting he watched pornography in the House of Commons.
Mr Parish is a farmer and as an MP sat on the Environment, Food and Rural Affairs Select Committee.
Mr Foord said he is concerned about what's happening to farmers in rural constituencies like Tiverton and Honiton, which voted 57.8 per cent to 42.2 per cent for Brexit, in 2016.
"The plight of farmers is so important; it shouldn't be underestimated," he said.
"They are having their basic payment removed, which the Liberal Democrats would maintain. We're also seeing the introduction of some botched trade deals which could lead to imported low-grade, low-welfare food. It's the perfect storm.
"The Liberal Democrats would like to create better links with the EU, but they have no desire to reverse Brexit."
At the time of writing, bookmakers have the Liberal Democrats at odds of one to five on, to win.
Mr Foord fervently believes the current Government is ignoring Devon.
"For example, the Conservatives pledged to build a Cullompton railway station, a decade ago," he said.
"They haven't done anything about it. But now the by-election is here, they are once again pledging to build it.
"When you see nothing except a little bit of loose change being chucked our way on a feasibility study [for the new Cullompton station project], but no actual investment of the sort we need to get Devon moving, you realise we need to kick up more of a fuss."
The by-election takes place on June 23. A list of all the candidates is here.