Honiton: Operation Rudolph is preparing for a busy Christmas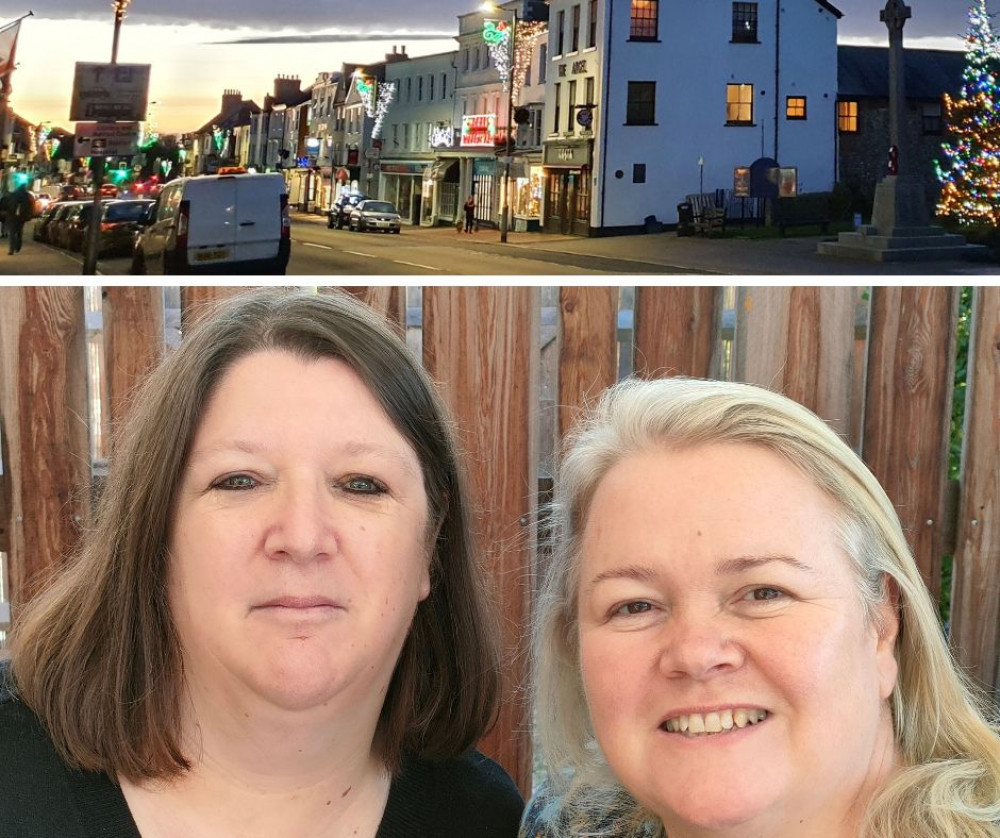 Top: Honiton High Street Bottom: Caroline Retter (L) and Sharon Thorne (R)
Are you thinking about Christmas yet? The team behind Operation Rudolph certainly are!
Sharon Thorne and Caroline Retter, alongside a huge team of volunteers, are organizing the event this year as part of their new Community Interest Group, Inspiring Connections.
Operation Rudolph is a started in 2020. The project supports families or individuals during what is often a difficult period. Through donations and fundraising individuals and families are provided with Christmas hampers, meat boxes and presents.
There is also a community meal on Christmas day in Mackarness Hall and in 2021 35 people attended the meal. For those that are unable to get to the hall, transport is provided.
Over the past two years, the annual event has grown into a huge community coming-together. More than 100 volunteers are involved and more than 100 families have been helped.
Sharon told Nub News: "As some of you may know, I am moving on from TRIP, my home for the last three and a half years. What I will take from my time here is that I have had the privilege to work alongside our communities, especially the community approach to support over the pandemic.
"Operation Rudolph is a real community-led project, with over 100 volunteers over the past two years, stepping up to help. This includes many of you who have given such generous support to make this vital project possible.
"My role with TRIP has supported this as it enabled me to coordinate the project and I will always be thankful for the support and resources of the TRIP team.
"As we head into a hard winter, we know there is a real concern about how families will manage, and the decision of 'heat or eat ' is a real everyday issue for many. This is not just from families who may already know about what support is available, but as mortgages and debt cost increases, alongside food and petrol, it's those who would normally be able to manage who are finding it hard."
TRIP will continue to play a role in this year's Operation Rudolph, and will be helping Inspiring Connections with transport and referrals.
Caroline and Sharon are expecting this year to be very busy with requests. The cost-of-living crisis is affecting many families in Honiton who may reach out for assistance for the first time.
If you are worried about the Christmas period, the team behind Operation Rudolph urge you to get in touch. Sharon said: "There are no complicated forms or evidence needs, it's an open system that offers real support without labels, with dignity and respect."
If you would like more information on referrals or you would like to volunteer or help, you can find out more information here. Operation Rudolph is always looking for volunteers, both on Christmas Day but also in the run up.
For general project information please contact Inspiring Connections.
You can also contact the team on [email protected] or 0300 365 4540
Read more:
Honiton: The largest rail strike in decades is set to take place on Saturday
East Devon: Humphreys sex offences investigation could cost £50,000