Honiton Wine Bar 'so proud' to achieve top hygiene rating for the first time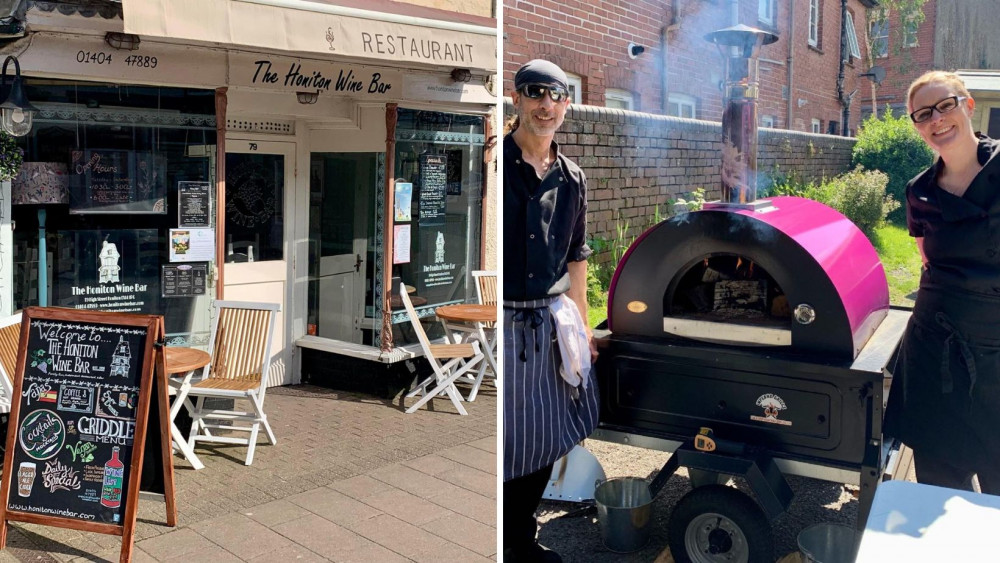 L The Honiton Wine Bar R: Pete and Lisa Beigan (Credits: Lisa Beigan)
The Honiton Wine Bar has been awarded the maximum of 5 from the Food Standards Agency.
For the first time, the popular restaurant has achieved the excellent rating of 5 after an inspector tuned up on January 17 - the first evening they had been open in 2023, which came as "quite a shock!"
The Food Standards Agency is a government body which conducts regular inspections of restaurants and cafes to ensure they are preparing and selling food in a safe way.
The agency carried out a formal (and unannounced) inspection by an environmental health officer.
Lisa and Pete Begian are the owners of Honiton Wine Bar and both are thrilled to awarded 5. They recently hosted a charity event in memory of Lisa's mother, Mary-Rose.
The kitchen and food preparation area in the Honiton Wine Bar are very small, and therefore it was placed in the 'high risk' category by the Food Standards Agency, due to an increased risk of cross contamination and accidents.
However, when the couple took over the restaurant in 2018, Pete was already familiar with the small space, having previously worked there for a number of years.
He immediately set about improving the kitchen area to increase its hygiene rating. Pete bought new equipment, installed a second sink and created new preparation zones for different foods.
As well as this, Pete adapted the menu in order to reduce the risk of cross contamination, whilst still ensuring the menu maintained lots of variety.
All staff are thoroughly trained in food hygiene and safety and they have undertaken level 3 hygiene certificates.
Lisa Beigan spoke to Nub News about their recent achievement: "We are so proud to be awarded the 5: it really was one of our missions to achieve something we were told was almost impossible due to the Wine Bar's layout and space.
"The words ''high risk' may deter some chefs, but Pete wanted to prove that it was possible for a high risk kitchen to prove it was 100% safe for the public.
"To be fully recognised and awarded for doing that is a fantastic achievement for us and a goal we set for ourselves. Standards will continue to remain at their highest and we will maintain this achievement in the future.
"Our little wine bar brings us so much pleasure: we truly love the place. The challenges that hospitality faces at present are worrying, but we haven't lost the drive to keep moving The Honiton Wine Bar forward, to maintain the great reputation it has and to allow it to flourish even during difficult times."
The Honiton Wine Bar is located at 79 Honiton High Street.