Huge solar farm proposed for greenfield land near Exeter Airport
By Joe Ives - Local Democracy Reporter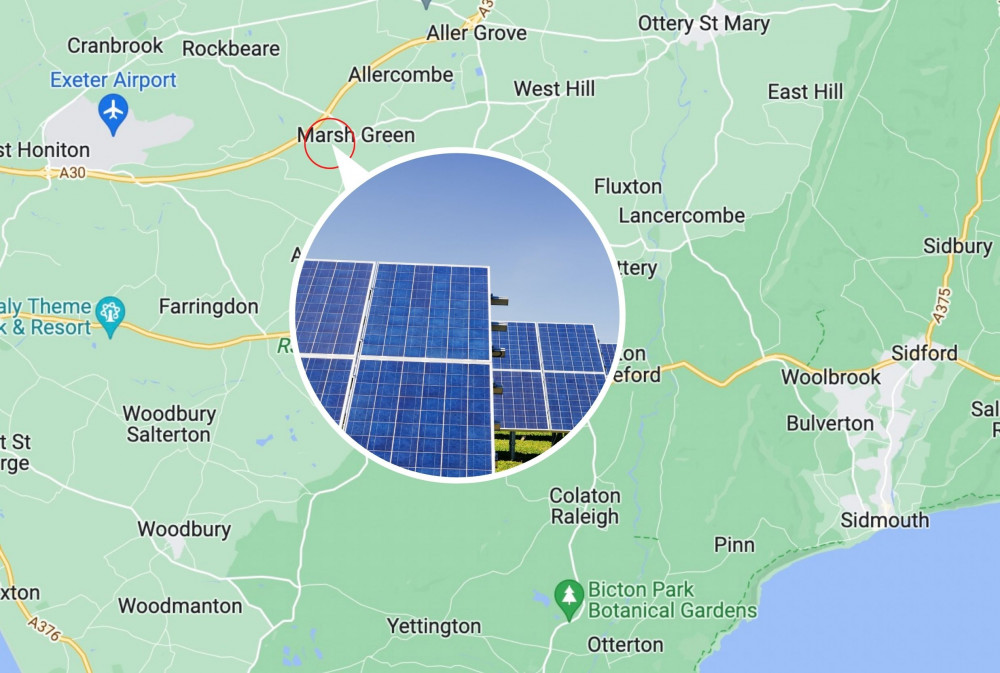 The farm would be built on land neighbouring the A30 (Google Maps). Inset: Example of solar panels (Unsplash)
A planning application for a huge solar farm near Exeter Airport has been submitted to East Devon District Council (EDDC).
The plans are jointly being put forward by Kajiima, a Japanese construction company, and the Low Carbon Alliance, a chartered surveying and engineering consultancy company based in Hertfordshire. Their joint partnership is called Taiyo Power and Storage Ltd.
They say the project, known as the 'Ford Oaks Solar & Green Infrastructure Facility' could generate 30 megawatts of power, saving 7,430 tonnes of CO2 emissions – the equivalent of taking 1,600 petrol cars off Devon's roads for a year.
The partnership doesn't yet know where the solar panels will be sourced from but a spokesperson on their behalf said Taiyo Power and Storage will "strive to use the panels with the latest technology and greatest efficiency available at the time of procurement."
The spokesperson did not clarify how much money the partnership expects to make from the project.
Taiyo Power and Storage argues that the size and nature of the project means the solar farm has to be built on greenfield land.
If approved, the land, four miles east of Exeter and owned by Devon County Council as well as two private landowners, would be returned to agricultural use after 40 years.
Not everyone is happy. Councillor Simon Brodie from Rockbeare Parish Council said: "This is perfectly good farmland which is going to be needed with the rising cost of living due to the war in Ukraine we should be producing our own food, the sheer size of this venture will be a blot on the beautiful East Devon countryside and a logistical nightmare with heavy goods vehicles in single-track country lanes during construction."
Responding to the comments, a spokesperson highlighted the project's aim of creating 45 hectares of green infrastructure improvements "designed to facilitate the continuation of agricultural practices, including extensive sheep grazing."
They also said the scheme would more than double biodiversity in the area through the planting of Devon traditional meadows, a mosaic of wetland habitats, and beetle and butterfly banks.
They said the increase in construction traffic "would not have a perceptible impact" on the nearby road network as these vehicles would be used outside of peak times.
Simon Crowe, a director of Taiyo, said: "Ford Oaks will be a fantastic opportunity for East Devon to progress its ambitious climate strategy.
"At a local level, we are providing a renewable energy source for 18,500 homes for the area.
"At a national level, we need five times as much renewable energy as we are currently producing if we are to be net zero by 2050. Ford Oaks marks an important first step in Taiyo's journey in supporting the UK's commitment."
EDDC declared a climate emergency in 2019 and has a target of being carbon neutral by 2040.
The project has been out for consultation since last August, and representatives from Taiyo Power and Storage will attend an Aylesbeare Parish Council meeting on Wednesday 1 June with an exhibition about the proposal.
Another meeting with Rockbeare Parish Council is still to be confirmed.
These consultations will need to be completed before the plans go to EDDC's planning committee for a decision.