Local Councillors criticise government funding for Devon
By Ollie Heptinstall - Local Democracy Reporter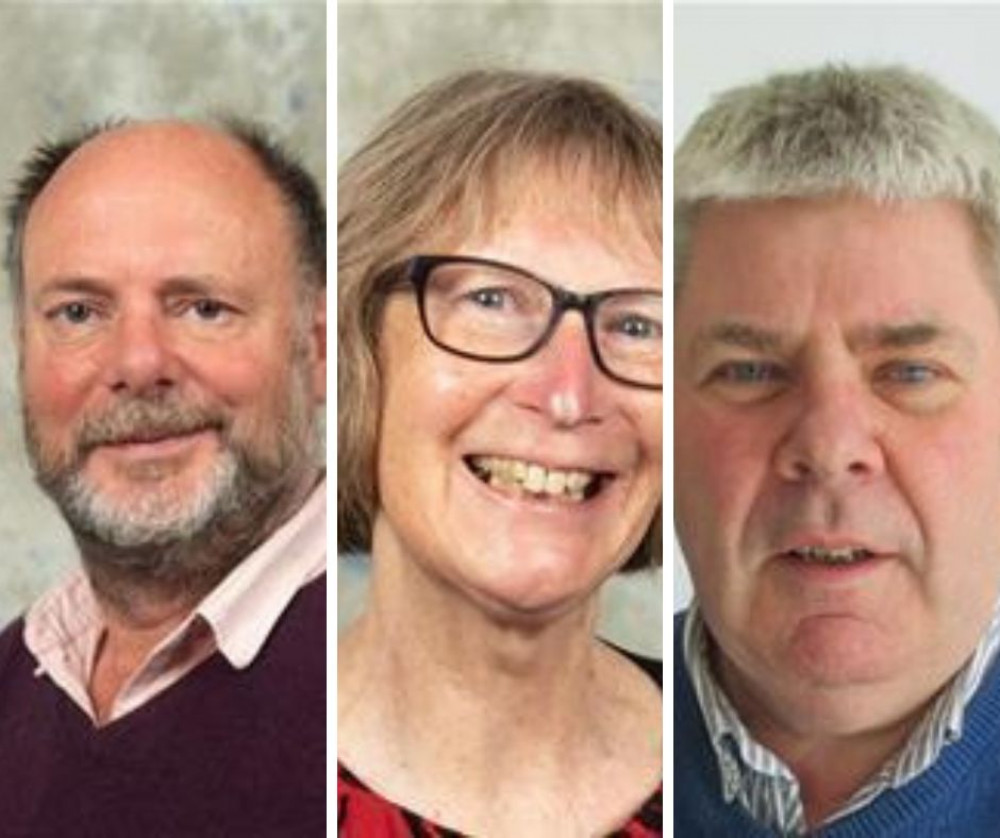 L: Cllr Julian Brazil, Centre: Cllr Carol Whitton, R: Councillor Phil Twiss (Credit for all: EDDC)
The government is creating a "wild west economy" that is failing to address Devon's problems, the county council's opposition leader has claimed.
Lib Dem councillor Julian Brazil (Kingsbridge) made the remarks at a cabinet meeting on Monday [26 September] after hearing that the Conservative-run council's overspend could be as much as £27 million this financial year, despite it already finding millions of pounds of savings and extra income.
It followed a mini-budget by chancellor Kwasi Kwarteng last week that featured the biggest tax cuts by a government for 50 years.
The cost-of-living crisis and increasing demand for help for vulnerable children and adults has led to spiralling costs in Devon, with the council recently warning it had "never before faced a combination of demand growth and price shock pressures of this scale."
And while the underlying budget forecast has worsened since then, a 'financial sustainability programme' at county hall – finding services that can be modernised, postponed or cut – has helped to reduce the projected black hole by almost £20 million.
However, it still predicts an overspend this year of £17 million, which could increase to around £27 million because of inflation.
Reacting to the update from cabinet member for finance Phil Twiss (Conservative, Feniton), Cllr Brazil said: "I suppose the underlying problem that we have in Devon is a lack of funding from central government. And what we had on Friday was a particularly large fiscal event or mini budget or whatever they wanted to call it, but unfortunately failing to address any of the problems that we suffer here in Devon."
He continued: "It's almost as if they're living in a sort of parallel universe that while our services are struggling to provide for the most vulnerable in our communities, there seems to be this idea that somehow you can magic it all away by giving tax cuts.
While Cllr Brazil said he had "some sympathy" for Cllr Twiss, he added: "I wonder at what point he's going to say, 'enough's enough' and break away from a government that seems hell bent on creating some kind of wild west economy without actually addressing all the incredibly pressing needs that we have here in Devon and particularly supporting the most vulnerable who need our help more than ever."
Labour group leader, Councillor Carol Whitton (St David's and Haven Banks), also expressed concern about the council's current predicament and urged its leadership to lobby for more financial help.
"The situation is desperate and there is no prospect that it's getting any better. At the end of the day, the books will balance this year because, if necessary, money will be pulled out of reserves. So, we won't go bankrupt but what will happen next year [and] what will happen the year after that?
"Unless there is a rebooting and a rethink at Westminster about how local services are provided, how frontline services are provided, this situation is not going to change and I find that very depressing going forward.
"As Cllr Brazil says, I hope that you as cabinet members and as leader make it as plain as you possibly can to the powers that be that local government is really in trouble here. And it's not just Devon, we know this, it's a national situation.
In response, Cllr Twiss said they could be "absolutely sure" that members of the cabinet attending this weekend's Conservative party conference in Birmingham will be "lobbying anybody and everybody we can to make the case for local government."
"[Cllr Whitton]'s hit it on the head, local government is in trouble and unless it's funded properly, we're going to be in a lot more trouble. But I don't take the doom and gloom approach … we will balance the books and we'll do our very best."
The updated total does not include a separate, projected £34.5 million overspend this year on caring for children with special educational needs and disabilities (SEND). This is because the government has told councils to put SEND overspends into separate ring-fenced accounts for three years while it develops a new funding plan.
The arrangement ends in April and Devon, and along with a number of other authorities, Devon is still waiting to hear from the government about what will happen with the overspends. The county's current ring-fenced overspend on SEND – effectively debt – is projected to rise to £121 million by next year.
Cllr Twiss hopes additional funding will be provided by the Department for Education soon but admitted the authority will "have to change the way we work."
A spokesperson for the Department for Levelling Up, Housing and Communities said: "We have made an additional £3.7 billion available to councils this year in recognition of their vital role. This includes an additional £40 million for Devon County Council to ensure they are able to deliver key services."
Devon's ruling cabinet noted the budget update, which concluded: "The good work underway must continue at pace and scale to ensure the authority is in the strongest position possible to continue to provide the best services we can within the resources available."
New honiton Jobs Section Launched!!
Vacancies updated hourly!!
Click here: honiton jobs