Up Close with Grahame Jackson of Harts of Honiton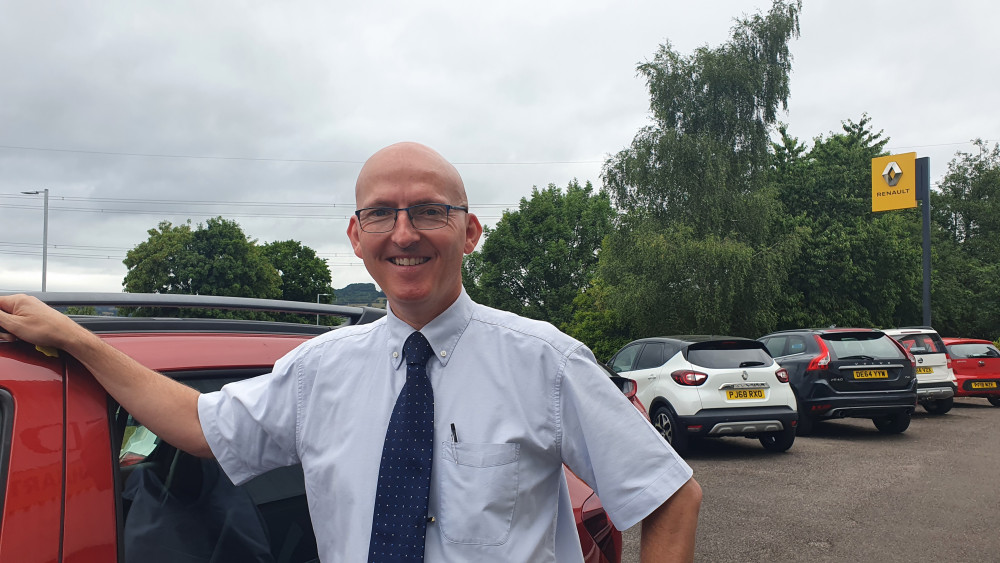 Harts of Honiton Sales Manager, Grahame Jackson
August 1 was an opportune date to pop into Harts of Honiton to have a chat with Sales Manager Grahame Jackson to hear a little more about him and the company he works for, as it marks the start of his 35th year there.
Grahame started as a fresh-faced young Salesman on August 1st 1988,when Harts was an Austin Rover dealership. He has remained ever since, through changes to Rover and then to Renault back in 1998, by which time he had been promoted to the Sales Manager position he holds to this day. He even met his wife of 30 years at Harts when he sold her a car!
Grahame (53) told Nub News what he enjoyed about his job. "I enjoy working here because it's a good firm to work for, we meet some really lovely customers and it's a lovely relaxed environment with stunning views out across the countryside towards Combe Raleigh and Dumpdon.
"Many of our customers have been with us for nearly 30 years, appreciating our friendly staff, wide selection of quality used cars ranging from £3,000 upwards and our collection and delivery offer around East Devon for service customers. We also buy most cars for cash up to 10 years old and less than 100,000 miles.''
Grahame and his colleague Nick Robinson look forward to helping you with any car purchases and are happy to take any car or van in part exchange.
Harts of Honiton are our official Honiton Nub News Motor Sponsors. Without community-minded partners like them we would not be able to produce the locally-relevant, clickbait-free news to the people of Honiton.
You can browse Hart's selection of cars here and you can find them in Honiton, here.
Read more:
Keep it local with Harts of Honiton car dealership
Honiton Car of the Week: Used 2018 Nissan X Trail, courtesy of Harts of Honiton