Honiton: How the Co-op is supporting mental wellbeing in the local area
Honiton: How the Co-op is supporting mental wellbeing in the local area
---
By Will Goddard
Posted: Wednesday, 19th January 2022 12:16 pm
---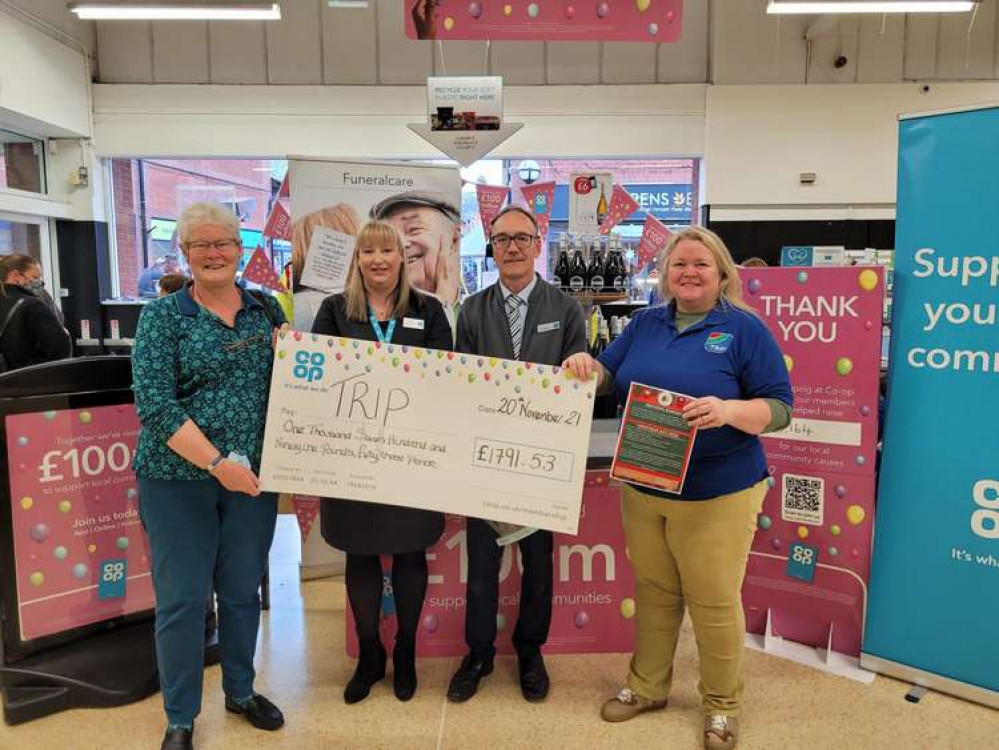 The Co-op has helped to fund TRIP's befriending hub by raising £1791.53 over the past year
Moments that matter
The pandemic has affected the mental wellbeing of millions, and World Mental Health Day in October raised awareness of mental health issues across the globe.
In Honiton, the Co-op is supporting the mental wellbeing of the local community by providing vital funds to local cause TRIP Community Transport.
What is TRIP Community Transport?
TRIP Community Transport is a Honiton-based charity that seeks to relieve isolation and loneliness in the area by providing easy access transport, befriending services, and more.
Deputy Manager Sharon Thorne said: "We've been around for 25 years.
"Whilst we're predominantly known for our blue buses, the core of our practice is about reducing isolation and loneliness, not just for the elderly, it's for anybody that can't access ordinary services.
"We're enabling a community space, and the positive thing is we've got transport to get people here as well."
How has the Co-op's Local Community Fund supported TRIP?
Thanks to the Co-op's Local Community Fund, TRIP has been able to employ another team member – something TRIP needed to do after an increase in demand during the COVID-19 pandemic.
Sharon said: "Our demand has trebled over the past 18 months.
"Partners have passed or services have dwindled, people have recognised that they've needed something outside of the home."
TRIP remains focused on encouraging people to seek help if they need it.
Sharon continued: "Don't be afraid, there are services out there to help people, and it's not a weakness by asking for help.
"No-one's going to judge you, or think you're not coping, this is just about us helping you to help yourself."
Click here if you'd like to learn more about TRIP Community Transport's services.
Honiton Co-op Member Pioneer Tyler Bonetta said: "The Co-op Local Community Fund allows local groups to raise money by donating 2p for every £1 spent on Co-op products when you scan your membership card at the till - we have helped to fund TRIP's befriending hub by raising an amazing £1791.53 over the past year, and help them keep the community running throughout COVID lockdowns by phoning people, helping them with their shopping and even starting a local community larder called Honiton Foodsave, saving food from going in the bin and helping people who suffer from food poverty.
"It's amazing to see these funds turn into results, and it's amazing that TRIP, Devon Freewheelers and Honiton PTFA have been able to raise a combined £5,164 this year - and that is all down to Co-op members in the community!"
One in four of us experience a mental health problem in any one year. That's someone in every family, workplace and friendship circle. In the UK it's around 14 million people. That's why Co-op is working in partnership with Mind, the Scottish Association for Mental Health (SAMH) and Inspire to bring communities together to support mental wellbeing.
To help you look after and find support for your and others' mental wellbeing, the Co-op has created Be Kind To Your Mind. It includes activities from Co-op and its partners as well as general tips and how to seek support from its charity partners, Mind, SAMH and Inspire.
www.coop.co.uk/communities/charitypartnership
If you need support with your mental health or know someone that does, the following can help:
• contact Mind for support in England and Wales on 0300 123 3393 (lines open 9am to 6pm, Monday to Friday), text: 86463 or email
[email protected]
• text SHOUT for support anywhere on 85258
Co-op membership helps support Co-op's national charity partners and Local Community Fund causes. When you buy selected Co-op branded products and services, 2p for every pound spent goes to you and Co-op gives the same to local communities. See www.coop.co.uk/membership