By-election: 'I'm campaigning passionately to win', says Labour candidate Liz Pole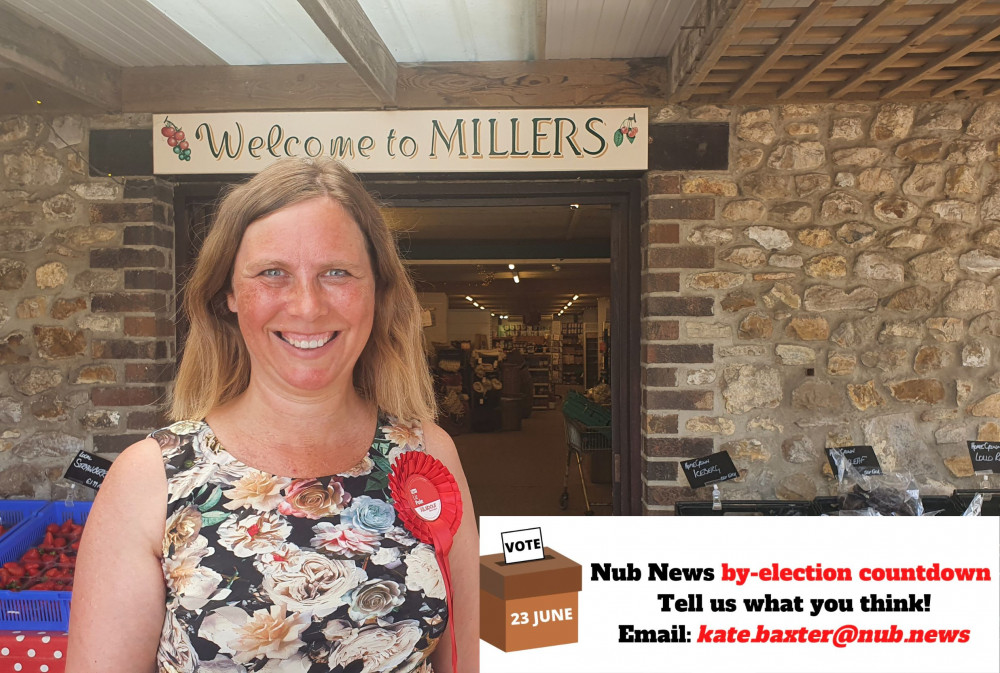 After coming second to Neil Parish for the Conservatives in the 2019 general election, Labour's Liz Pole is determined to win this time around.
Infuriated by neglected public services, a Prime Minister mired in perpetual scandal and long-term under investment, Mrs Pole is running an energetic and positive campaign.
In 2019 she secured 20% of the vote and came second after Mr Parish, who held onto a 24,000 majority with 60% of the votes.
Whilst much attention has focused on the assumed two-horse race between the Conservatives and the Liberal Democrats, could Mrs Pole surprise everyone and win this time around?
Liz lives between Seaton and Axminster with her two children, Violet (18) and Anna (16) and her husband, Mark. She has been a member of the Labour Party since she was 15 years old.
She told Nub News: "It's such a privilege to stand. I love meeting people in the community and getting behind the scenes, finding out what's going on in the background.
"People are very concerned about the cost-of-living crisis, which is affecting everyone. But the lies and the lack of integrity is mentioned – a lot. For more affluent people, this is the bigger issue. They haven't forgotten about it."
"My dad died last year, and we'd barely seen him other than through a doorway for 18 months. He was in hospital on his own and I couldn't visit him, I wasn't allowed to be there when he died. Everyone has a story like that and it does make people very angry."
The Labour Party have been accused of neglecting the Tiverton and Honiton campaign efforts to focus on Wakefield, where there is an election on the same day. However, Mrs Pole firmly denies her campaign has been half-hearted. "I'm campaigning passionately to win what I am hearing is that people are looking for a change in government.
"The Conservatives are saying they are the only party that can secure extra investment for Devon, which all parties agree has been lacking. But is hasn't materialised so far, has it?"
If she were to be successful next week, Mrs Pole would focus on helping people through the cost-of-living crisis.
To support working families, the Labour party would create a Children's Recovery Plan, using money that the government has available now, in a pandemic recovery fund.
It would provide breakfast and after school clubs in every school in the country. They would also offer small group tuition to children as well activities such as sports and drama.
Labour have pledged to take the VAT off energy bills for every household and would reverse the recent increase in National Insurance. For small businesses, they would raise the tax threshold to £25,000.
As petrol prices reach record highs, Mrs Pole acknowledges that rural constituents are hit disproportionately hard, but the Labour Party haven't pledged to go any further than the 5p per litre cut in fuel duty implemented in March by the government.
"We would fund education, affordable housing and the health service properly, and that's our commitment."
Asked what her priorities for Honiton are, Mrs Pole said she would like to see more investment in youth services, increased support for small businesses, improved public transport and more social housing.
The candidate is already part of the management committee for the Community Use Building (CUB) on School Lane and she is part of the annual 'Fiver Fest', which encourages people to spend money on the high street in Honiton.
"Parking is a big issue in Honiton, particularly around Streamers Meadows where people park to use the station. Public transport is a problem in rural areas generally and one of our pledges is to give local authorities control over their own bus network, so they can make their own decisions."
She acknowledged that there is a problem with access to housing in Honiton: "If all the houses which have been built in Gittisham were council houses, rather than executive houses, than the people who live in rented accommodation could live there, on affordable rents. And this would free up the rental market in Honiton."
Finally, asked why people should vote for her, she said: "I am passionate about the local economy and knowledgeable about the area. And I have integrity."
Mrs Pole is one of eight candidates standing in Thursday's election. They are:
Jordan Donoghue-Morgan – Heritage Party
Andy Foan – Reform UK
Richard Foord – Liberal Democrats
Helen Hurford – Conservative
Liz Pole – Labour
Frankie Rufolo – The For Britain Movement
Ben Walker – UK Independence Party
Gill Westcott – Green Party