Green Party candidate Gill Westcott: 'This campaign is dominated by disillusions'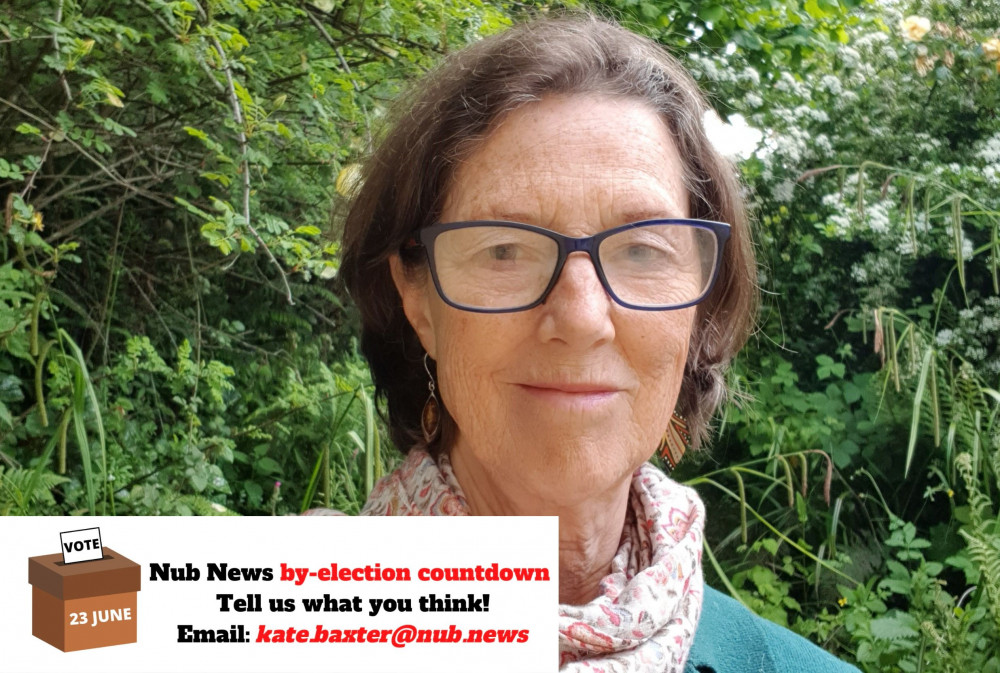 The Green Party's Gill Westcott (Credit: Gill Westcott)
The Green Party's by-election candidate, Gill Westcott talked to Nub News about her campaign and why she feels this by-election is so important.
"This campaign is very open, but it is characterised by disappointment and disillusions. People feel they have been let down, both locally and nationally.
"It is not taking place during a positive moment in Britain's history. Quite the opposite.
"People are talking to me about our Prime Minister's conduct. Not only does Boris Johnson not follow the rules, but he also actively changes the ministerial codes to allow for his actions. Currently, Britain is seen as a country that is not to be trusted."
Mrs Westcott (70) lives in Tiverton. Throughout her life she has been involved in a wide range of community projects in Devon, for example she is Secretary of a Community Land Trust, which provided affordable homes for local people, she is a Parish Councillor and she helped found a community food shop in Exeter.
She told Nub News "The Conservatives haven't delivered. People are talking to me about the failure to improve Tiverton High School and the railway station at Cullompton – both were promised, but nothing has materialised." These two issues have been raised consistently by the opposition parties.
The Green Party's focus is on the environment, and Mrs Westcott's frustration at the lack of action on the climate emergency is evident. "This government haven't put in place policies to lessen the UK's contribution to climate change, in fact they're doing the opposite with increased drilling in the North Sea.
"We need policies to halt the damage and protect people from threats that are now inevitable, such as the rising sea levels in East Devon we saw in this week's report."
Green Party environmental polices include more regenerative farming, investing in cheaper renewable energy and home insulation, which Mrs Westcott says would massively reduce people's energy bills.
However, Mrs Westcott is very much aware that one of the main issues for Honiton is deprivation.
Her party would increase universal credit and tie pensions to inflation, so they don't decrease in real terms. Although Mrs Westcott does not agree with lowering the price of food (or petrol) she does want to see more support for the poorest, for example though community fridges.
The Green Party would extend the eligibility of free school meals to all children in households below the poverty line, and re-open the Community Led Housing Fund to support communities' own affordable housing schemes for local people.
In 2019 The Green Party secured 3.8 per cent of the vote in Tiverton and Honiton. This time around, Mrs Westcott is hopeful they will receive more as people have become more interested in environmental issues in the last three years, especially the younger people who are voting for the first time.
Eight candidates are standing in next week's election. They are:
Jordan Donoghue-Morgan – Heritage Party
Andy Foan – Reform UK
Richard Foord – Liberal Democrats
Helen Hurford – Conservative
Liz Pole – Labour
Frankie Rufolo – The For Britain Movement
Ben Walker – UK Independence Party
Gill Westcott – Green Party
Read more:
Honiton by-election: 'For the first time ever, I am undecided'
Local issues, getting rid of Tories are Seaton residents' priorities for by-election