Honiton By-election: Helen Hurford acknowledges it may come down to just one vote
Helen Hurford is hoping to hold onto Neil Parish's large majority.
Teacher turned entrepreneur and Town Councillor Helen Hurford (43) is a woman on a mission.
She is determined to be the next MP for Tiverton and Honiton, but first she must shake off the scandals of two men.
Shadows cast by the misdemeanours of Prime Minister Boris Johnson and former MP Neil Parish loom heavy over her campaign but she is determined to stand on her own platform and she is very much enjoying the campaign.
Ms Hurford was born in the area and she raised her three children in Honiton. She worked as a teacher and then was Head Teacher of Sampford Peverell School, near Tiverton. Ms Hurford inherited a school that had dipped from a previous Ofsted rating of 'Good' down to 'Requires Improvement', and when she left the post she had successfully brought back its 'Good' rating.
"I represent The Conservatives because they are aspirational. Everything about me, everything that I have achieved, is because I don't stop, and I aspire. They [The Conservatives] don't put anyone in a box and say that's all you deserve and can achieve.
"My core belief is that you can do whatever you want to if you're willing to work hard enough."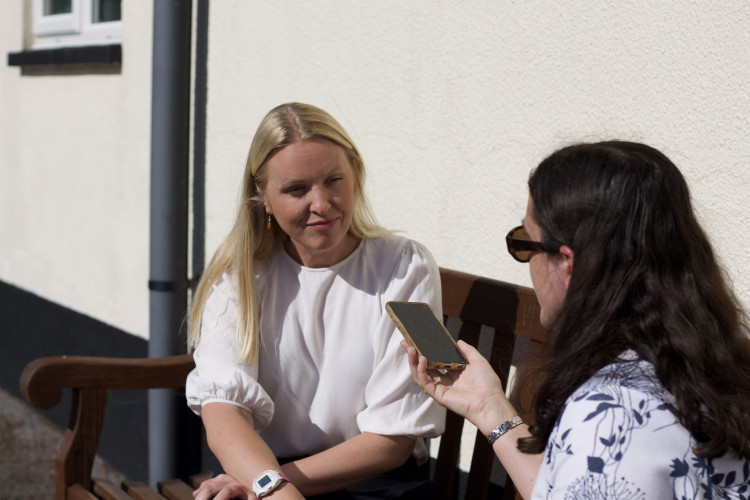 Ms Hurford left teaching in 2019 to start her own beauty business in Honiton. "I loved being a teacher, it is a real blessing and a privilege. I turned the school around and was a good headteacher, but I wanted to try something different."
"I had my children whilst I was finishing my degree and I've always been a working mother, and I wanted to give other things a go. I don't want to regret anything in life."
After what some considered to be a quiet start to the election, Ms Hurford's campaign to maintain the 24,000 Conservative majority has visibly stepped up a gear and in the few last weeks she has busy meeting people, visiting business and welcoming government ministers, including the Prime Minister to East Devon.
"I'm absolutely loving the campaign here in Tiverton and Honiton. I'm knocking on doors of people I haven't seen for years, people I used to teach. It's great!"
Nub News has spoken to many Conservative voters who won't vote for Ms Hurford simply because of their dislike for Boris Johnson. Citing his dishonesty and lack of integrity, they're lending their vote to other parties.
Ms Hurford acknowledged the challenge she is facing: "It is disappointing to hear that. I respect how people are feeling. On the doorsteps what I am experiencing is people haven't been impressed, and they have been upset about partygate, which I completely understand. I wasn't impressed when I first saw those pictures.
"However, we had the report, recommendations were made and he has apologised. The position where we are in the global economy, with the war in the Ukraine....when there are big decisions to be made, Boris Johnson makes the right ones.
"Ultimately, I am here to represent Tiverton and Honiton. I don't want to go to Westminster and play party politics. No thank you!"
Ms Hurford says she welcomes the support of the Prime Minister and denies reports that she is deliberately distancing herself from him, confident that most people are 'sick to death' of partygate and want to move on.
Part of Ms Hurford's 6-point plan is securing extra investment for Devon to fund infrastructure, schools, the NHS and to support farmers. Asked why this investment wasn't secured by Neil Parish in the previous 12 years of Conservative rule, Ms Hurford said: "I can only tell you what I would do.
"You have to be able to work with the government, and build up those relationships, which I have already started to do.
"Anyone who knows me knows that when I say I am going to do something, I do it. I've met with the Environment Secretary, the Secretary of State and a whole list of others."
Responding to yesterday's Nub News poll, which put the Liberal Democrats ahead, Ms Hurford said: "From knocking on the doors, I'd say it is going to be very, very close.
"To anybody who is thinking that we're taking you for granted, or that it doesn't matter, I say to you please get out and have your say! It could just come to just one person's vote"
The election will take place on June 23. The constituency of Tiverton and Honiton has always returned a Conservative MP.
Read more:
Honiton by-election: 'For the first time ever, I am undecided'
By-election candidate Richard Foord calls for 'change'