Honiton: Liberal Democrats leading Tiverton and Honiton by-election race, says Nub News poll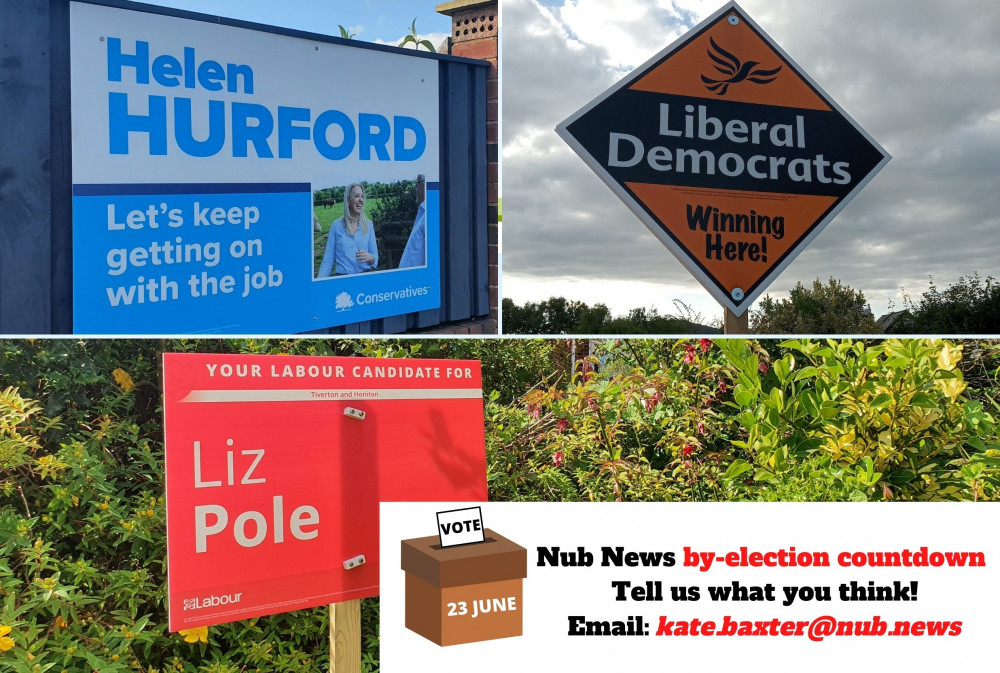 Election posters (Nub News)
An exclusive local poll of Nub News readers in Honiton, Seaton and Axminster has suggested the Liberal Democrats are heading for victory in next week's Tiverton and Honiton by-election.
More than half of readers who expressed an opinion – 51 per cent – said they would be voting for Liberal Democrat candidate Richard Foord in next Thursday's by-election.
Tory candidate Helen Hurford was placed second in the Nub News poll with 32 per cent of the vote. Labour's Liz Pole was way behind in third place, with almost eight per cent.
Nub News polled 340 subscribers to its three hyperlocal sites in the Parliamentary constituency, between 7.30am on Tuesday (June 14) and midday today (Wednesday June 15).
Readers were asked: How would you vote if the Tiverton and Honiton by-election was held today?
A total of 340 Nub News readers each registered a single vote for one of the eight candidates on the ballot paper.
For several weeks, the Liberal Democrats have been running a highly-visible and active campaign across the constituency, with hundreds of orange posters dotted along roads and thousands of leaflets pushed through letter boxes.
Right from the start, bookmakers have offered short odds-on victory for their Devon-born, former army major candidate Richard Foord.
But after a quiet start, Tory candidate and Honiton businesswoman Helen Hurford has become more visible in recent days.
And on the streets of Honiton, Axminster and Seaton opinions among voters have been mixed.
Most members of the Nub News People's Panel were not surprised by the result of our local opinion poll.
Sixty-five-year-old Miriam Thomas, who set up the Honiton Repair Café, added: "The result isn't at all surprising, given what I've been hearing on the streets of Honiton. Helen Hurford doesn't stand a chance, because she's been unfairly tarnished by the actions of her predecessor."
Honiton social worker Harry Charlton was also not surprised by the results. "I'm personally happy with the polling indication, but not surprised given the feeling on the ground. I think Richard Foord has run a professional and civil campaign and has a real grasp of local issues.
"Aside from knowing that Helen Hurford is a local former headteacher, who will 'keep getting on with the job', I know very little about her priorities for the area."
Harry acknowledged the difficulties Helen has as a member of the party in power. "A difficulty Hurford had which Foord doesn't is party incumbency. The Conservatives have been in power since 2010 so when I hear issues such as broadband being raised, it's very easy for people to ask why it hasn't been done already."
Postman and father-of-two Dan Cloute, who lives on Church Road said: "I think that because of the nature of Neil Parish's leaving the Conservative party have been tainted in a lot of people's eyes.
"People like to think themselves respectable and the Tories have been dragged further into controversy. Even some of their own supporter's will look elsewhere.
"I've never voted for the Conservatives and much like the Maradona's hand of God incident, I never forgave Margaret Thatcher milk snatcher for taking away the white stuff from me and all school children in the late 70s!"
Local pensioner Jim Rider was the only member of the People's Panel who was surprised with the results. "The Lib Dems have done better than I thought they would. They have seized their best chance for many years and have worked hard in a commendably energetic campaign in this constituency.
"I talked yesterday to a very polite and intelligent canvassing agent and I told him why I would not be voting for his candidate. I have had 5 leaflet drops at this address. An expensive campaign funded by a wealthy supporters."
The by-election was called after the resignation of Conservative MP Neil Parish, who admitted watching pornography on his phone in Parliament. Mr Parish had a 24,000 majority at the last General Election, in 2019.
The full results of the Nub News poll were:
| Candidate | Votes |
| --- | --- |
| Jordan Donoghue-Morgan (Heritage Party) | 0.59 per cent |
| Andy Foan (Reform UK) | 0.29 per cent |
| Richard Foord (Liberal Democrats) | 51.47 per cent |
| Helen Hurford (Conservative Party) | 32.35 per cent |
| Liz Pole (Labour) | 7.94 per cent |
| Frankie Rufolo (The For Britain Movement) | 2.06 per cent |
| Ben Walker (UK Independence Party) | 1.47 per cent |
| Gill Westcott (Green Party) | 3.82 per cent |