Honiton: Liberal Democrat leader Ed Davey praises Nub News for its by-election coverage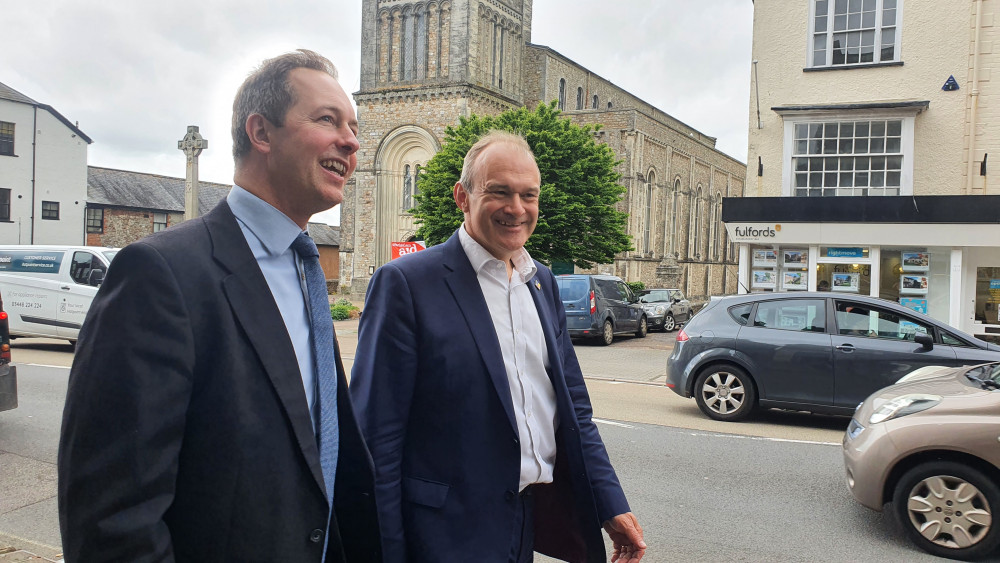 Liberal Democrat leader Ed Davey with newly-elected MP Richard Foord on Honiton High Street.
Liberal Democrat leader Ed Davey has thanked the people of Honiton, Seaton and Axminster for electing Richard Foord as their new MP - and praised Nub News for the quality of its independent by-election coverage.
Two pre-election polls of local subscribers to Nub News sites in the three towns showed the Liberal Democrat candidate would win more than 50 per cent of the vote and his Conservative opponent Helen Hurford would not reach 40 per cent.
Every other poll - most of them in the national media - suggested the by-election result would be much closer.
Last night (Thursday, June 23) Mr Foord won almost 53 per cent of the 42,707 total votes cast across the constituency (22,537). Runner-up Mrs Hurford won just over 38 per cent (16,393).
Speaking to Nub News this morning, Mr Davey said: "This result has delivered an irrefutable verdict on a Government which has stopped listening to the people.
"Thank you to the people of Honiton, Axminster and Seaton who have endorsed our message. I look forward to working with our new MP Richard Foord and helping to get the UK back on track.
"I would also like to thank Nub News for its fair and equitable coverage of the by-election. It is great to see a media outlet that serves its local community, putting local issues at the heart of its business."
The swing to the Lib Dems, from the Conservatives, was more than 30 per cent.
Former Tory MP Neil Parish, who resigned earlier this year after admitting watching pornography on his phone in the House of Commons, had a majority of more than 24,000 votes when he was last elected in 2019.
Nub News vox pops of voters in Honiton, Seaton and Axminster, in the weeks leading up to yesterday's by-election heavily suggested the Liberal Democrats would win last night.