Honiton: Liberal Democrats on track to win by-election, according to Nub News Poll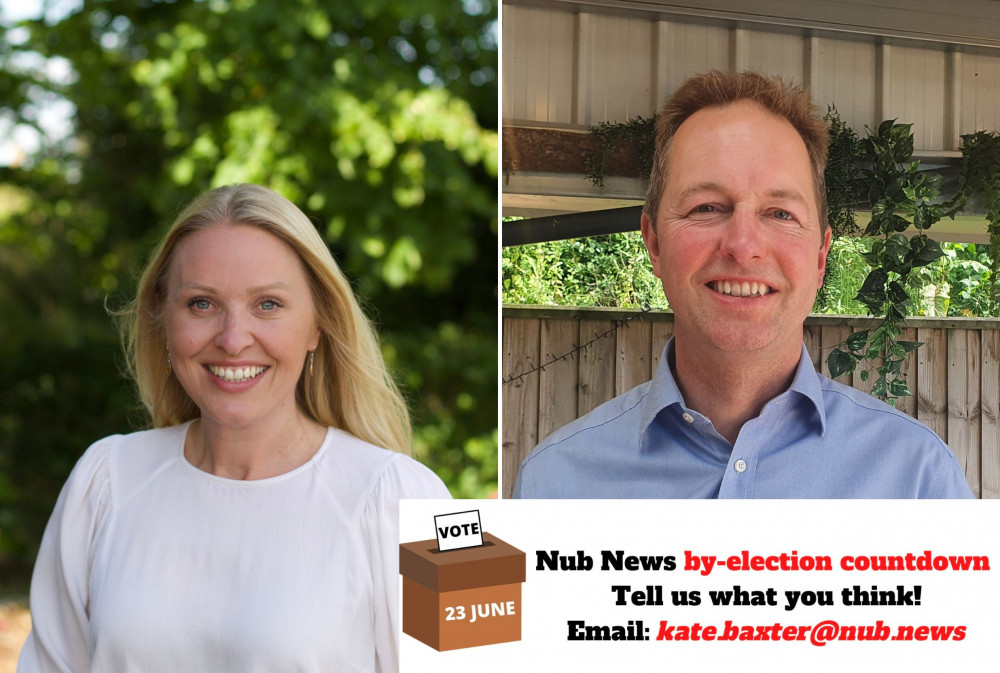 The election is widely seen as a two-horse race between Helen Hurford for the Conservatives, and Riichard Foord for the Liberal Democrats.
The Liberal Democrats are on course to win this week's Tiverton and Honiton by-election, according to a second Nub News poll of its readers in Honiton, Axminster and Seaton.
The independent poll, which was carried out on Tuesday and Wednesday of this week, found 62 per cent of Nub News readers intend to vote for Liberal Democrat candidate Richard Foord, an increase on the 51 per cent he recorded in a similar poll last week.
Once again, Tory candidate Helen Hurford was in second place with 29 per cent of Nub News readers' votes – compared to 32 per cent last week.
Labour candidate Liz Pole collected four per cent of the votes in this week's poll. Last week she was on eight per cent.
The apparent hardening of the Liberal Democrat vote in the three Nub News towns, in the week between the two polls, is reflected in the candid comments of local people on Honiton High Street earlier this week.
It also helps explain the flurry of by-election leaflets – including thousands made to look like personal letters – that have been stuffed through letter boxes in recent days.
In the past week, both Ms. Hurford and Mr Foord have told Nub News that they expect the results to be extremely close. Mr Foord said he would not take any votes for granted and Ms. Hurford said that she was out campaigning for every single vote, as one person's vote could make all the difference.
George Grayson (37) works for an international NGO and he has lived in Honiton for two years. He agrees that the by-election result is hard to call. He told Nub News: "I've enjoyed following the election campaign and I'm looking forward to casting my vote. It's exciting.
"I'm surprised that The Liberal Democrats have such a large lead in the Nub News poll - I thought it would be closer. The Lib Dems have an enormous majority to overturn and there's a real sense of 'now or never' for them, I think. They've certainly dropped off a lot of pamphlets!"
Between 7am on Tuesday (June 21) and midday on Wednesday (June 22), Nub News readers were asked: How would you vote if the Tiverton and Honiton by-election were held today?
Nub News polled 237 subscribers to its Honiton, Axminster and Seaton sites.
The by-election was triggered after the resignation of Conservative MP Neil Parish and will take place tomorrow (Thursday June 23).
Jayne Willets, a dog-boarder from Axminster, hasn't yet decided who will get her vote. She said: "I'm not at all surprised by the results indicating the Liberal Democrats will win.
"That is definitely the sense I am getting from all the signs in people's houses. I think they will probably take it.
"I haven't decided who I will vote for yet - I just know who I won't be voting for! For me the most important issue is local policy, so I will vote for the candidate who really seems interested in improving my area."
The full results of this week's second Nub News poll were:
John Donoghue-Morgan Heritage Party) 0.42 per cent
Andy Foan (Reform UK) 0.84 per cent
Richard Foord (Liberal Democrats) 61.76 per cent
Helen Hurford (Conservative Party) 29.41 per cent
Liz Pole (Labour Party) 3.78 per cent
Frankie Rufolo (The For Britain Movement) 0.84 per cent
Ben Walker (UK Independence Party) 1.26 per cent
Gill Westcott (Green Party) 1.68 per cent
Read more:
By-election: 'Tiverton and Honiton needs an MP who has integrity', Green Party candidate says
Chancellor Rishi Sunak MP visits Honiton in last few days of by-election campaign
Honiton: Nub News' People Panel have their say on the latest by-election stories