BREAKING: Lib Dems win Tiverton and Honiton by-election
By Will Goddard and Kate Baxter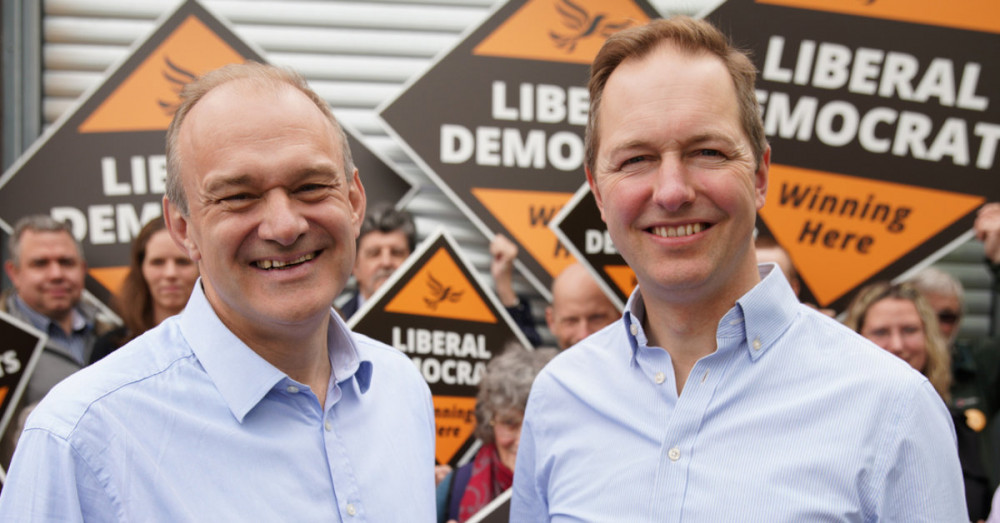 L to R: Sir Ed Davey and Richard Foord (Liberal Democrats)
UPDATE: 5.15pm
Prime Minister, Boris Johnson, has been speaking at the Commonwealth Heads of Government Meeting in Rwanda. In reference to the losses of by-elections in both Tiverton & Honiton and Wakefield, he told journalists "I'm not going to pretend these are brilliant results. We've got to listen, we've got to learn."
UPDATE: 2.35pm
East Devon's District Councillor leader congratulates Richard Foord.
Councillor Paul Arnott said: "Huge congratulations to Richard Foord for a brilliant campaign run with truth, passion and courtesy.
"We look forward enormously to a brilliant and effective working relationship with EDDC, where the Democratic Alliance, including the LibDems, is now in a third year of control.
"The Tories were ejected from East Devon after 45 years of running the council in 2019. And now with tonight's results, it was not just a negative vote against Mr Johnson, it is a historic win for the majority of people who live in this amazing place.
"Richard and I will now meet on Friday to discuss how we will work together with immediate effect for the public good."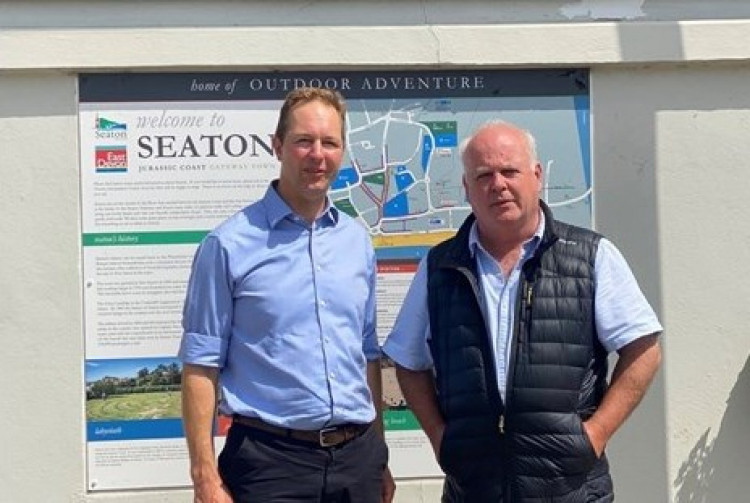 Richard Foord MP with EDDC's leader Cllr Paul Arnott. (Credit: EDDC.)
UPDATE: 2.30pm
The former leader of the Conservative Party Michael Howard has urged cabinet members to get rid of Boris Johnson because he is not a vote winner anymore.
Speaking to the Today Programme, Mr Howard said; "I think the party, and even more importantly the country, would now be better off under new leadership."
UPDATE: 1.33pm
UKIP candidate Ben Walker gives his response to the by-election results: "The biggest winner last night wasn't the Liberal Un-Democrats, it was voter apathy."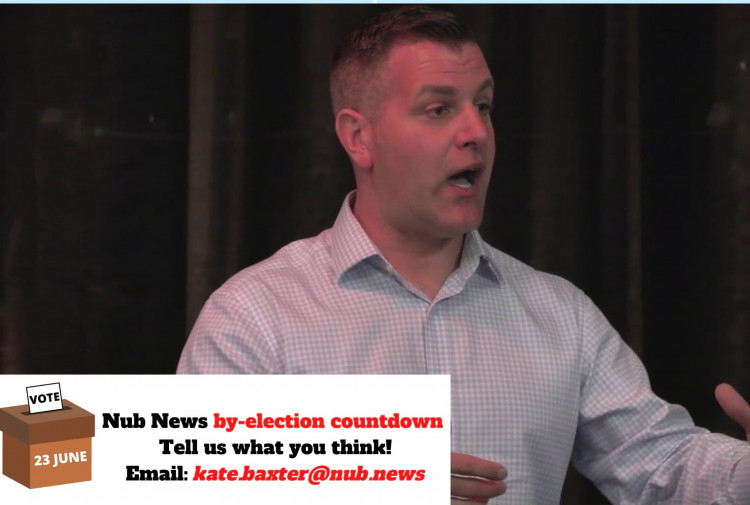 Ben Walker stood for the UKIP party in last night's by-election (Credit: Ben Walker)
UPDATE: 1pm
Nub News' People Panel give their take on the results: "The swing to the Liberal Democrats is astounding."
UPDATE: 11:33am
Rishi Sunak has responded to this morning's by-election results. He posted a Tweet which said: "I'm sad that my colleague and friend Oliver Dowden took the decision to resign this morning.
"We all take responsibility for the results and I'm determined to continue working to tackle the cost of living, including delivering NICs changes saving 30 million people on average £330"
UPDATE: 11:19AM
The leader of the Liberal Democrat party, Ed Davey, has praised Honiton Nub News for its coverage of the Tiverton and Honiton by-election. He said: "I would also like to thank Nub News for its fair and equitable coverage of the by-election. It is great to see a media outlet that serves its local community, putting local issues at the heart of its business".
UPDATE: 10:09AM
Neil Parish, who was forced to resign after admitting to watching pornography in the House of Commons, has spoken to Radio Devon in response to the by-election results.
He said: "What is becoming increasingly necessary for the party and the MPs to discuss what is the long term position of the prime minister. The public are concerned.
"You cannot ignore people. It was a very safe seat. I'm afraid at the moment there is too much distraction and we are not getting on with the job."
UPDATE 8.03AM
Richard Foord tells Nub News the result is 'sensational'
Richard Foord, the new MP for Tiverton and Honiton, told Nub News: "It was a long count but worth it for a sensational result.
"It is a very clear message that people are not happy with being taken for granted by Boris Johnson's Conservative government and are ready to vote for change."
UPDATE: 7.47am
In a response to the by-election results, Boris Johnson pledged to 'listen' to voters' but keep going.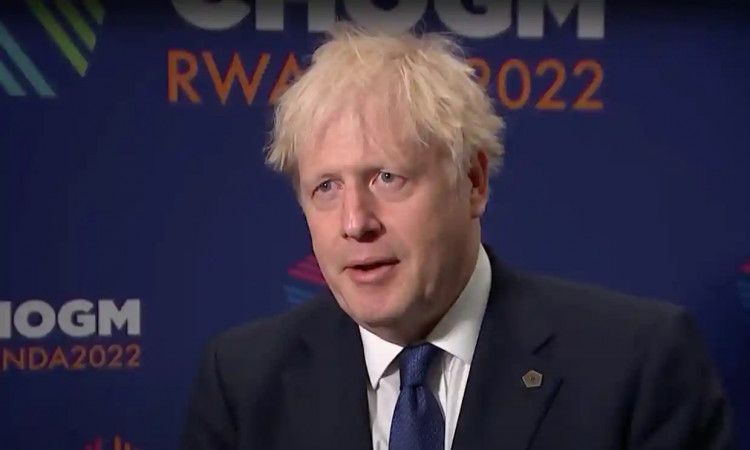 Boris Johnson responding to the two by-eleciton defeats. (Credit: Sky News)
The Prime Minster, who is currently in Kigali for the Commonwealth summit, told broadcasters: "It's absolutely true we've had some tough by-election results. They've been, I think, a reflection of a lot of things, but we've got to recognise voters are going through a tough time at the moment.
"I think, as a government, I've got to listen to what people are saying, in particular to the difficulties people are facing over the cost of living, which, I think, for most people is the number one issue.
"We're now facing pressures on the cost of living, we're seeing spikes in fuel prices, energy costs, food costs - that's hitting people.
"We've got to recognise there is more we've got to do and we certainly will, we will keep going, addressing the concerns of people until we get through this patch."
UPDATE: 7.35am
Two Nub News polls correctly predicted the outcome of the Tiverton and Honiton by-election.
Nub News asked its newsletter subscribers who they were going to vote for and the results were remarkably similar to the results on the night.
The poll was conducted twice.
The first results (published on Wednesday 15 June) showed the Liberal Democrats in the lead, with 51 per cent of the vote compared to Helen Hurford (for the Conservatives) who gained 32 per cent.
The results of the second poll were published on Tuesday 22 June. It showed that the Liberal Democrats had widened their lead. They gained 62 per cent of the vote and Helen Hurford secured 29 per cent.
UPDATE: 7.11am
Oliver Dowden has resigned as co-chair of the Conservative party. In a letter of resignation to Boris Johnson, he wrote that the by-elections were: "The latest in a run of very poor results for our party.
"Our supporters are distressed and disappointed by recent events, and I share their feelings.
"We cannot carry on with business as usual. Somebody must take responsibility and I have concluded that, in these circumstances, it would not be right for me to remain in office."
UPDATE 7.06am:
Full results of Tiverton and Honiton by-election
Richard Foord (Lib Dems) - 22,537 (52.91%, +38.14%)
Helen Hurford (Con) - 16,393 (38.49%, -21.72%)
Liz Pole (Lab) - 1,562 (3.67%, -15.88%)
Gill Westcott (Green) - 1,064 (2.50%, -1.34%)
Andy Foan (Reform) - 481 (1.13%)
Ben Walker (UKIP) - 241 (0.57%, -1.06%)
Jordan Donoghue-Morgan (Heritage) - 167 (0.39%)
Frankie Rufolo (FB) - 146 (0.34%)
__________
UPDATE 6.22am: The new Liberal Democrat MP for Tiverton and Tiverton, Richard Foord has overturned a majority of over 24,000 (or 40 per cent).
In his victory speech, Mr Foord said: "The people of Tiverton and Honiton have spoken for Britain.
"They have sent a loud and clear message that it is time for Boris Johnson to go. Communities like ours are on our knees."
Mr Foord went on to thank his wife, Kate, and the Labour supporters who had 'lent' the candidate their support.
__________
The Liberal Democrats have won the Tiverton and Honiton by-election.
According to Mid Devon District Council, 42,707 votes were cast - a turnout of 52.3 per cent.
Lib Dem candidate Richard Foord got 22,537 votes. Conservative Helen Hurford received 16,393.
The result is a huge swing in favour of the Lib Dems, who won just 14.8 per cent of the vote in the 2019 general election.
Two Nub News polls of its newsletter subscribers accurately predicted this result: the first was 51 per cent, and the second 62 per cent for the Lib Dems. The final result was 52.7 per cent of votes for Richard Foord's party.
New honiton Jobs Section Launched!!
Vacancies updated hourly!!
Click here: honiton jobs